: Spread the word via social networks and email. « Back to Blog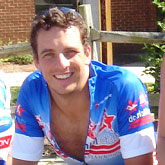 Our team decided that we'd focus the attention that we will be getting from the press and others on environmentally-sound transportation. We think that we can really give this cause a serious boost. I think one sentence sums it up best: "If we can ride 3000 miles in less than a week, you can ride three miles to work once a week." People always have an excuse (we're all guilty here). "It's too cold." "I need a couple more minutes in bed." "I would arrive at work sweaty." We think that the way to combat climate change is to take small steps--like riding to work even when it's more convenient, warm, and generally easier to drive.
We think that by telling the story of moving a team of 4 and a crew of more than 12 across the country and back with zero carbon output, and riding more than 3000 miles, non-stop, we will raise people's awareness and challenge their beliefs about what can be done on a day-to-day basis. We plan to fully offset our carbon emissions (cars, RVs and plane trips) and eat/drink organically (when possible). Getting the $$$ for carbon offsets is a challenge, but challenges are what we are about.



Stay in touch with reciprocal links between blogs. Contact us for info.


Xtreme4 RSS

See these and many more videos at our YouTube Channel