: Spread the word via social networks and email. « Back to Blog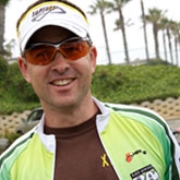 Big congrats to Andrea for running a 3:15 marathon in NYC yesterday! If you can imagine, this is her "off-season" cross training. And Kip raced 3:03 Marine Corps Marathon last week, then went up to NYC, just a week later, to be a guide for a blind hand-cycle athlete. We can't wait to get the full low-down. Way to go team!

The rest of the team got together last night to review our sponsorship opportunities and talk about race week logistics in greater detail. Rotations, time stations, sleeping (and lack there of), schedules, vehicles, pacing, power output, and a host of other details were on the table for discussion. This is just the start of getting our crew and riders to coordinate our plan A.




Comments:
tks!
by: Andrea - 11/09/2007 09:41 AM
Thanks Eric! I had a blast in the marathon, even though that course was harder than I imagined it was 5min PR, so I can't complain. Now I'm looking forward to the miles on the bike! :)



Stay in touch with reciprocal links between blogs. Contact us for info.


Xtreme4 RSS

See these and many more videos at our YouTube Channel