: Spread the word via social networks and email. « Back to Blog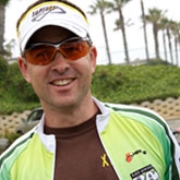 The team is happy to announce a great addition: Lee Poole will join us as the pro mechanic. Obviously this is a critical aspect to keep us running smooth during our training season, epic training events and throughout race week. He was a great resource at Total 200 and we're looking forward to brainstorming with him on our tech needs. Check out his bio in the crew section.




Comments:
Excellent Choice
by: Sheri - 11/27/2007 03:51 PM
Excellent choice. Lee has been interested in anything with wheels since before he could ride a bike. He will make a great asset to your team. (Although I am predujice as I am his mom.)



Stay in touch with reciprocal links between blogs. Contact us for info.


Xtreme4 RSS

See these and many more videos at our YouTube Channel