: Spread the word via social networks and email. « Back to Blog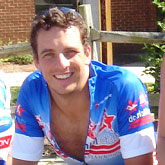 We're on a roll this week -- just got word from dpmsports--the distributor for Spiuk products (aero helmets, eyewear, and shoes), and Dolan bikes -- that they have agreed to partner with us. It has become pretty clear that aero helmets offer a great deal of time savings over the course of a triathlon (even down to the olympic distance) -- so we're very eager to use them for 3000+ miles. If you can save a minute or two over 24 miles, think how that adds up over 3000 miles.
Once we get geared up with this stuff, we'll let you know how it feels and what we think. For now, just a big thank you to the guys at dpmsports for getting us aboard and a reminder to all you readers to check out their site. Also, while you're there, take a look at who they already sponsor; it's an awesome list of athletes to be joining.

Comments:
Spiuk rocks!
by: Mariana - 11/09/2007 09:44 AM
That's awesome Phil! Spiuk helmets are great. Our sponsor list is shaping up strong, this is very exciting.
3 Hour Time Gain!
by: Eric - 11/09/2007 03:11 PM
Looking at the numbers we could save 3+ hours over 6 days of high speed racing! They have a great line up of products.