: Spread the word via social networks and email. « Back to Blog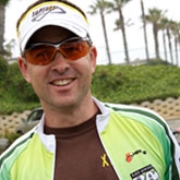 As anticipated my weekend was filled with turkey dinners (yes two) and plenty of turkey sandwiches, as well as some repetitive base training miles. The first day I eased into it with a short 5k run race- only noticed the effects when I went out on the bike ride the next day! I guess those short hard efforts really do take a toll. It was bitter cold and windy for the first ride- about 15mph headwind all the way out. Patrick and I took on some more hills than usually and it was a welcomed warmer upper. My legs felt totally spent half way into the ride and the thought of going at it for two more days in a row was a mental haul. But as we rolled back into town (tailwind in effect) it was great to be going to my second feast knowing I had pushed it with all I had. The next day it only grew colder but again we warmed up quickly. We had a good group of five and egged each other on through all the tough climbs - again leaving very little behind on the course I was spent. Then today, I slept in and took some advice from Andrea- rode at noon while the day was at it's warmest. It was an awesome way to cap off the weekend.

Next week I'm off to Puerto Rico so I'll get one more hard biking set in on Tuesday before I am off on cross training (more running and open water swims). The idea is take it a bit easier over the next week to let the body recover. Then I'll be in good shape for more intense bike sessions over the following month.




Comments:
Solid weekend!
by: Mariana - 11/26/2007 08:34 AM
You rock! Friday and Saturday AM conditions were nasty cold/windy (in the low 30s-high 20s) and still you convinced Patrick to go along and climb all those hills in the wind and cold! Kudos to you two!
Poor Patrick
by: Eric - 11/26/2007 09:53 AM
Yeah- the part you didn't hear about was how I woke Patrick up on Saturday and he was on his bike just 10 minutes later. From warm bed to bitter cold in a crazy fast transition. Then he said, "where's everyone else?"



Stay in touch with reciprocal links between blogs. Contact us for info.


Xtreme4 RSS

See these and many more videos at our YouTube Channel