: Spread the word via social networks and email. « Back to Blog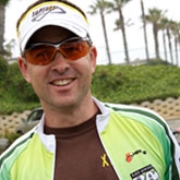 After taking a week off from biking it was nice to go out today- albeit a bit later than planned. Don't get me wrong it was a planned week off with run training instead- I was out of town so that was the easiest thing to do logistically. So I had a full effort of biking before I left and now again this weekend. It was raining and cold this morning which meant trainer time for most of the team but I held out hope to get outside. Luckily the day turned completely around and it was in the mid 40's with plenty of sun. Patrick and I hit the normal route with the added hills and took it aggressively - enough to want to get back as fast as we could without bonking. Trainer days ahead made us especially happy to cruise around on the roads and chat it up when we weren't pushing so hard we couldn't breathe.






Stay in touch with reciprocal links between blogs. Contact us for info.


Xtreme4 RSS

See these and many more videos at our YouTube Channel