: Spread the word via social networks and email. « Back to Blog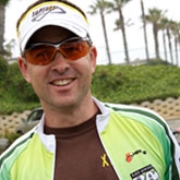 The training is on full speed - and last week I bumped up my bike and run milage. The runs every day really took their toll and even by Friday I had that heavy leg feeling which I knew meant the weekend would be tough. By the time the group Saturday ride came along I was really feeling it. We had an awesome turnout for a 30 degree start- about 28 of our DC Tri Club friends came out for a huge ride. It was awesome to get that type of support and enthusiasm in the middle of winter. And even though I was dragging, we rode an aggressive 80 miles and plenty of climbs. Somehow it warmed up by the time we came back! I limped back home having pushed all I could- still surging for spurts all the way to the end.

I took Sunday off, well, kinda. I regulated the day to house work and less exciting things but was still on my feet most of the day. Does that count for a day off? Doesn't feel like it. Figured a semi day off would be better to hit up for another full week of training - starting a with a bike and run today. My current training schedule pushes me for a couple weeks with a lighter third week, then repeat. It's more complex than that- adding in speed and endurance work as well as focusing on certain disciplines on a given week. The great news is that the temperature has kicked up to 60.






Stay in touch with reciprocal links between blogs. Contact us for info.


Xtreme4 RSS

See these and many more videos at our YouTube Channel