: Spread the word via social networks and email. « Back to Blog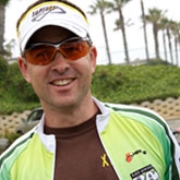 So what's YOUR weakness? "You better be able to point out and talk to your teammates about their weaknesses." And from there we got more personal and dove into a range of issues that touched on nutrition, habits, stretching and core exercises, drinking, comfort level, bonking, priorities and a bunch more. It was awesome. Raquel at Healing Hanz was our therapist and we embraced it full heartedly.

It was great to have someone else lead us into this type of discussion and not have it come from one of us- that allowed us to open up more and not concentrate on the agenda- rather just follow her lead. She's an incredible therapist and we're lucky to have her on board for our physical well being, but also because she's pumped up about this opportunity and giving us so much more than we'd ever expect. I even got up this morning to do my core exercises- something that has been routinely skipped many times before. Hearing the importance of it and then being reinvigorated about our team dedication - it's not just a personal goal, but a team goal. That was a great push- mentally. We're on our way.






Stay in touch with reciprocal links between blogs. Contact us for info.


Xtreme4 RSS

See these and many more videos at our YouTube Channel