: Spread the word via social networks and email. « Back to Blog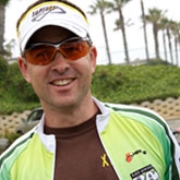 It was long overdue- some much needed bike love to get my ride back in top shape. Lee (our resident mechanic) hooked me up after my mid day ride yesterday to go over my bike and give it a full tune up. He switched out my cassette and chain since they had way too many miles on them - the chain was stretched beyond 100% (should be changed at 50-70%). Exactly what the percentage means I don't know- but it wasn't good. And he even got into my wheel bearings and re-greased them and made sure to eliminate that nasty squealing noise. Something about old dried up seal rings that likely had expired a few thousand miles ago. I put on some new tires just the other day so it should be running a lot smoother next time we go out- scheduled for our long Saturday ride tomorrow. Thanks Lee. Can't wait to try it out on the road!






Stay in touch with reciprocal links between blogs. Contact us for info.


Xtreme4 RSS

See these and many more videos at our YouTube Channel