: Spread the word via social networks and email. « Back to Blog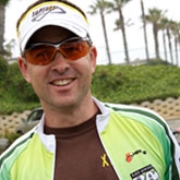 13.7 mph average to be proud of. It's not often that a pro race averages only 17 mph on one of the expected fastest days of the race. But today was nothing usual. With a constant rain and a mouth full of wind at 20mph with gusts well into the 30's mph it was enough to challenge any rider. Various pros dropped out of the tour before they even hit the feed zone. The route is used to getting a nice tail wind down the coast, but today it was 180 degrees in the opposite direction. Our expected 90 mile day was cut short - to 45 miles or so. At one point I registered 13 mph DOWNhill while pushing 230 watts. Various gusts completely stopped me and one actually drove me into the side of the mountain. But there were no complaints- something about it made me enjoy the cycling more than ever and I could have kept going all day. Why I'm not sure- it was miserable and it only seemed to get worse. And with a few days of hard riding behind us I thought my legs would have been dead to the world. Yet after warming up the challenge was fun, the couple KOM's (King of the Mountain climbs) came relatively easily- and they were comparatively to the day before. And the coast was amazing, zig-zagging up and around and back down and into the mountain.

There are no pictures. Not from me. It would have looked completely gray with fog rolling in from the ocean. Rain drops all over the lens and no way to show the howling winds whipping across the landscape- well maybe by the white caps and surf spraying and drifting like jet streams to the north. But it was awesome nonetheless. Grasping on to the handle bars while crossing huge expanses on open bridges with an expectation to drift a few feet one way or another at any point in time-- it was a thrill. It was nerve racking too.




Comments:
crazy?!
by: Paul C - 02/22/2008 02:32 PM
As crazy as it sounds, I want to say that I am jealous(?) that I am not out there with you. Lots of cold and sleet and ice on the East Coast. Still, sounds like you are having a great time!



Stay in touch with reciprocal links between blogs. Contact us for info.


Xtreme4 RSS

See these and many more videos at our YouTube Channel