The official route for 2010 is the same as 2008 and 2009- here is a preview of the time stations and overall route. It will start in Oceanside, CA. as it has for years and finish in Annapolis, MD. for the third straight time. As always the route is spectacular and continues to offer all the challenges the American landscape can throw at the racers – heat, mountains, the plains, and the hills of the east.

Route Designer: Peter Moffett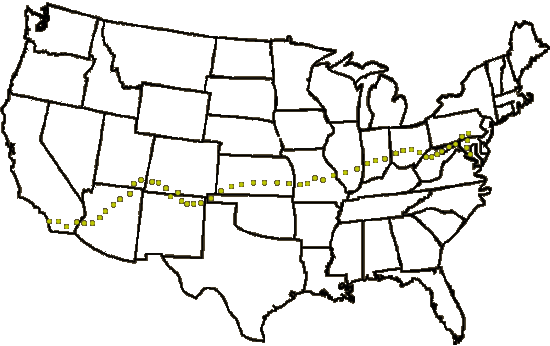 Start dates & times:
Solo: Sunday, June 9, 2010, 12:00PM (PDT)
Team: Wednesday June 12, 2010, 2:00PM (PDT)
Start location: Oceanside, CA.
Finish location: Annapolis, MD.
factS & information
+ 3021 miles
+ 14 states
+ 54 check points (listed below)
| | | | |
| --- | --- | --- | --- |
| TIME STATION | MILES | TOTAL | ELEV |
| 01: Lake Henshaw, CA | 54.41 | 54.41 | 2771 |
| 02: Brawley, CA | 88.20 | 142.61 | -92 |
| 03: Blythe, CA | 88.40 | 231.01 | 276 |
| 04: Hope, AZ | 53.06 | 284.07 | 1530 |
| 05: Congress, AZ | 60.16 | 344.23 | 3055 |
| 06: Prescott, AZ | 50.98 | 395.21 | 5065 |
| 07: Cottonwood, AZ | 34.60 | 429.81 | 3349 |
| 08: Flagstaff, AZ | 53.29 | 483.10 | 6836 |
| 09: Tuba City, AZ | 71.99 | 555.09 | 4832 |
| 10: Kayenta, AZ | 71.87 | 626.96 | 5721 |
| 11: Mexican Hat, UT | 44.67 | 671.63 | 4187 |
| 12: Montezuma Creek, UT | 39.80 | 711.43 | 4459 |
| 13: Cortez, CO | 50.15 | 761.58 | 6175 |
| 14: Durango, CO | 44.84 | 806.42 | 6478 |
| 15: Pagosa Springs, CO | 70.25 | 876.67 | 7619 |
| 16: Chama, NM | 50.19 | 926.86 | 7788 |
| 17: Antonito, CO | 48.86 | 975.72 | 7907 |
| 18: Taos, NM | 61.08 | 1036.80 | 6981 |
| 19: Cimarron, NM | 77.62 | 1114.42 | 6415 |
| 20: Abbott, NM | 44.88 | 1159.30 | 6167 |
| 21: Clayton, NM | 62.67 | 1221.97 | 5062 |
| 22: Elkhart, OK | 82.36 | 1304.33 | 3635 |
| 23: Plains, KS | 82.40 | 1386.73 | 2762 |
| 24: Bucklin, KS | 58.05 | 1444.78 | 2421 |
| 25: Pratt, KS | 51.61 | 1496.39 | 1874 |
| 26: Colwich, KS | 72.95 | 1569.34 | 1391 |
| 27: El Dorado, KS | 38.11 | 1607.45 | 1359 |
| 28: Yates Center, KS | 64.54 | 1671.99 | 1113 |
| 29: Ft Scott, KS | 58.16 | 1730.15 | 801 |
| 30: Collins, MO | 62.91 | 1793.06 | 857 |
| 31: Camdenton, MO | 53.66 | 1846.72 | 1045 |
| 32: Jefferson City, MO | 58.53 | 1905.25 | 597 |
| 33: Marthasville, MO | 75.06 | 1980.31 | 502 |
| 34: West Alton, MO | 69.00 | 2049.31 | 420 |
| 35: Greenville, IL | 46.29 | 2095.60 | 535 |
| 36: Effingham, IL | 50.05 | 2145.65 | 594 |
| 37: Sullivan, IN | 72.14 | 2217.79 | 512 |
| 38: Bloomington, IN | 67.35 | 2285.14 | 806 |
| 39: Greensburg, IN | 62.32 | 2347.46 | 951 |
| 40: Hamilton, OH | 63.86 | 2411.32 | 763 |
| 41: Blanchester, OH | 33.97 | 2445.29 | 968 |
| 42: Chillicothe, OH | 58.22 | 2503.51 | 613 |
| 43: Athens, OH | 58.69 | 2562.20 | 637 |
| 44: Parkersburg, WV | 36.28 | 2598.48 | 659 |
| 45: Smithburg, WV | 48.97 | 2647.45 | 821 |
| 46: Grafton, WV | 46.06 | 2693.51 | 1198 |
| 47: Gormania, WV | 44.72 | 2738.23 | 2324 |
| 48: La Vale, MD | 46.13 | 2784.36 | 961 |
| 49: Hancock, MD | 43.79 | 2828.15 | 433 |
| 50: Rouzerville, PA | 48.96 | 2877.11 | 739 |
| 51: Hanover, PA | 39.36 | 2916.47 | 781 |
| 52: Mt Airy, MD | 37.18 | 2953.65 | 782 |
| 53: Odenton, MD | 40.23 | 2993.88 | 213 |
| 54: Annapolis, MD | 14.57 | 3008.45 | 20 |