This is who we are and why we love to ride. Just a small insight into our background and how we got to this stage in the game. Why a race across 3000+ miles in about a week is an opportunity and not a drag. We got a fair amount of advice and experience while building our team - here's one that nails it:
You want people that can and will ride their bike with 2 broken legs and their hair on fire, not people who are gonna crap out after 800 miles because "they're just not into it."
Eric Goetz
RIDEr / instigator / TEAM CAPTAIN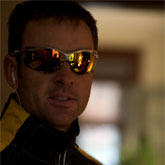 Hometown: San Juan, Puerto Rico
Graduate: Rhode Island School of Design, BFA, BGD
Yearly Milage: 5,500 - 7,500
Age: 43
Height: 6' 0"
Strengths: Climbing, Screaming Descents and not bonking
Weaknesses: Swimming and rest days
Favorite gear : 53/12
Favorite Fuel : DQ Oreo Blizzard & Infinit Jet Fuel
Always on the hunt for adventure, Eric dreams of his next challenge before his current one ends. The RAAM mixed 4 person team 2008 winner has ridden from San Diego to Washington DC, Rome to Barcelona, Glacier Park to Yuma, Vancouver to Mexicali and Toronto to Rhode Island (the last on a mountain bike with only a sleeping bag, cash and a tool kit of essentials). These incredible experiences have fueled a lifetime of memories: Screaming downhill at upwards of 55 mph; Climbing continuously for over 25 miles; Tracing 136 miles of the Blue Ridge in a single day--fully loaded with gear; Riding eight centuries in as many days; Covering countless miles and meeting even more personalities. All in pursuit of the important truth: What is his limit?

In preparation for RAAM he plans on heating up in the winter months with the Vuelta de los Nueve Faros, hammering out the Tour of California and biking around Puerto Rico non-stop. Then after racing across the country, Eric has his sights set on riding Total 200 and lounging at the pool. Eric resides on Capitol Hill in Washington, DC.
Rides & Races
+ RAAM 2008 Winner 4-Person Team Mixed
+ 5 Total 200 (2005, 2006, 2007, 2008, 2009): A one day, 200 mile ride
+ 3 Ironman races: 2 X USA, 1 X AZ (2006, 2007, 2008): 10:40
+ 9 Ironman 70.3 races including World Championships (2006): 4:56
+ Tour of California (2008)
+ 3 Vuelta de los Nueve Faros (2006, 2008, 2009): A 3-day, 385 mile ride circumnavigating Puerto Rico
+ 2 Cross Country Self Supported trips (4700 miles in 56 days, 3100 miles in 28 days)
+ 2 Canada to Mexico trips (2003, 2005): Rocky Mountain route, West Coast route
+ 100+ century rides (100 miles or more: 1993-present)
+ 3 AIDS Benefit Rides (NC to Washington DC): 3 day supported ride
+ Rome to Barcelona Self Supported trip
+ Seattle to San Francisco Self Supported trip
+ Toronto to Providence, Rhode Island Self Supported trip (mtn bike)
Philip Schmidt
RIDER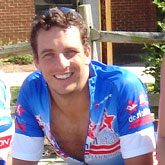 Hometown: Portland, Oregon
Yearly Milage: 5,000 - 6,500
Age: 36
Height: 6' 1"
Strengths: Climbing, drafting, and riding for days on end
Weaknesses: Candy and plaid shorts
Favorite saying: "The only good race pace is suicide pace, and today looks like a good day to die." – Steve Prefontaine
A native of Portland, Oregon, Philip fell in love with bikes during his first multi-day ride in 6th grade when he rode with a group around the Olympic Peninsula in Washington State. Until recently, however, biking was merely a hobby/minor obsession and a way to get to and from swim practice in high school and college. This swimming background helped him with his leg-shaving skills, which of course carry over to cycling. Since taking up triathlons in 2005, his time in the saddle has rapidly increased, along with his desire to ride longer, further and faster. RAAM 2008 satisfied some of that desire, but left him wanting another crack at the world's toughest bike race. That's where RAAM 2010 comes in. The new team, the experience from 2008, the knowledge that sleeping 3 hours a night is tolerable--these are the things that make him think 2010 will be another record-breaking race for Xtreme4.
Rides & Races
+ RAAM 2008 Winner 4-Person Team Mixed
+ Ironman Wisconsin 2008 (85th of 2500 - 10:12), Ironman Louisville 2009
+ Many half-Ironman (P.R. 4:34) and Olympic distance events
+ Boston Marathon 2009, New York Marathon 2009, Wirefly National Marathon 2008 (P.R. 2:58:17)

Swimming
+ Portland High School city champion: 200 IM, 200 Freestyle, 100 Backstroke. 1995, 1996.
+ Colorado College record holder: 400 IM, 200 backstroke, 800 freestyle relay, 200 medley relay. 1997-2001 (some still current)
+ 2007 Potomac River 7.5-mile swim: 3rd place


Meet the team that's making it happen:
Riders »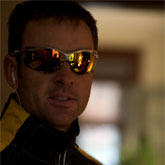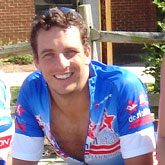 It takes a whole team to race in the most grueling race in the world. We are in the four person team category, which means we ride as a relay from start to finish. And the riders depend on an entire support crew - about 3 crew members for each rider during the race. And leading up to the event there are even more people involved with logistics, promotions, coaching, training events, health, nutrition and morale support just to name a few. Our team is a great combination of personalities and talents.