2008 TEAM
Eric Goetz Rivera
RIDEr / instigator / Race organizer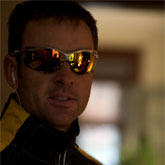 Hometown: San Juan, Puerto Rico
Graduate: Rhode Island School of Design, BFA, BGD
Yearly Milage: 7,500 - 10,000
Age: 37
Height: 6' 0"
Strengths: Climbing, T2 and not bonking
Weaknesses: Swimming and rest days
Favorite gear : 53/12
Favorite Fuel : DQ Oreo Blizzard
Always on the hunt for adventure, Eric dreams of his next challenge before his current one ends. The two-time Ironman has ridden from San Diego to Washington DC, Rome to Barcelona, Glacier Park to Yuma, Vancouver to Mexicali and Toronto to Rhode Island (the last on a mountain bike with only a sleeping bag, cash and a tool kit of essentials). These incredible experiences have fueled a lifetime of memories: Screaming downhill at upwards of 55 mph; Climbing continuously for over 25 miles; Tracing 136 miles of the Blue Ridge in a single day--fully loaded with gear; Riding eight centuries in as many days; Covering countless miles and meeting even more personalities. All in pursuit of the important truth: What is his limit?

In preparation for RAAM he plans on heating up in the winter months with the Vuelta de los Nueve Faros, hammering the Tour of California and racing Ironman Arizona and Ironman St. Croix 70.3. Then after racing across the country, Eric has his sights set on riding through Portugal and Spain, enjoying Total 200 v4 and organizing Endure 24. Eric resides on Capitol Hill in Washington, DC.
Rides & Races
+ 3 Total 200 (2005, 2006, 2007): A one day, 200 mile: Race organizer and rider, 21mph avg
+ 3 Ironman races: 2 X USA, 1 X AZ (2006, 2007, 2008): 10:40
+ 8 Ironman 70.3 races including World Championships (2006): 4:56
+ Tour of California (2008)
+ 2 Vuelta de los Nueve Faros (2006, 2008): A 3-day, 385 mile ride circumnavigating Puerto Rico
+ 2 Cross Country Self Supported trips (4700 miles in 56 days, 3100 miles in 28 days)
+ 2 Canada to Mexico trips (2003, 2005): Rocky Mountain route, West Coast route
+ 100+ century rides (100 miles or more: 1993-present)
+ 3 AIDS Benefit Rides (NC to Washington DC): 3 day supported ride
+ Rome to Barcelona Self Supported trip
+ Seattle to San Francisco Self Supported trip
+ Toronto to Providence, Rhode Island Self Supported trip
Philip Schmidt
RIDER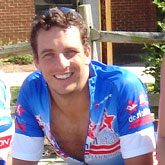 Hometown: Portland, Oregon
Yearly Milage: 5,000 - 6,500
Age: 30
Height: 6' 1"
Strengths: Climbing, drafting, and keeping going
Weaknesses: Candy
Favorite saying: "The only good race pace is suicide pace, and today looks like a good day to die." – Steve Prefontaine
A native of Portland, Oregon, Philip fell in love with bikes during his first multi-day ride in 6th grade when he rode with a group around the Olympic Peninsula in Washington State. Until recently, however, biking was merely a hobby/minor obsession and a way to get to and from swim practice in high school and college. This swimming background helped him with his leg-shaving skills, which of course carry over to cycling. Since taking up triathlons in 2005, his time in the saddle has rapidly increased, along with his desire to ride longer, further and faster. RAAM 2008 will surely satisfy that desire. By his calculation the riding time he'll spend preparing for and competing in RAAM 2008 will help him in his quest to place high in his age group at Ironman Wisconsin later in the year.
Rides & Races
+ 2007 Savageman Triathlon: 1st place relay (bike leg)
+ 2007 Mountaineer Half Ironman: 7th age group
+ 2007 Lake Montclair Triathlon: 3rd Age group
+ 2007 Mid-Atlantic club championships, North East Triathlon: 3rd age group, 15th overall
+ Multiple century rides
Swimming
+ Portland High School city champion: 200 IM, 200 Freestyle, 100 Backstroke. 1995, 1996.
+ Colorado College record holder: 400 IM, 200 backstroke, 800 freestyle relay, 200 medley relay. 1997-2001 (some still current)
+ 2007 Potomac River 7.5-mile swim: 3rd place
Andrea Vasquez
RIDER / Torito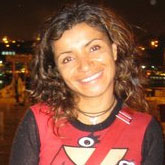 Hometown: Bogota, Colombia
Yearly Milage: 7,000-10,000
Age: 30
Height: 5' 2"
Strengths: climbing, endurance
Weaknesses:coconut cake, bounty chocolate, waking up early to swim
Favorite SOMEthing: Fridays, a hard hilly ride with friends, long runs, and dancing
Andrea's mantra is "The sky's the limit!" and she certainly embodies her credo. Always looking for the next challenge, this compact Colombian dynamo is a natural endurance athlete. She took up running back in 2002 when her boss convinced her to go for a 4 mile run. The next day she ran 6 miles, the next week she ran 10 miles, and soon she raced a half marathon. Within two months she signed up for a 200-mile race across New Hampshire (Reach the Beach relay) with a 12-person team. In 2005, she upped the ante and decided to do an Ironman without even knowing how to swim. Andrea survived a very choppy ocean swim in Brazil, a windy bike ride and a hilly run to finish her first Ironman and was instantly hooked. Six Ironman races and multiple marathons later, she is still on the hunt for the next big thing.

On the bike, she is known as "Torito" because she races up any hill like a "little bull" and loves keeping up with the guys. Born and raised at high altitude, she credits some of her success to Colombia's strong tradition of cycling domination. But her real secret is not her Colombian blood or her custom Serotta named "Torito Colombiano," but her steely determination to train hard and win races. Look out RAAM: Andrea "Torito" Vasquez is on the hunt for another win.
Rides & Races
+ Ironman Brazil (2005)
+ Ironman Canada (2005, 2007)
+ Ironman New Zealand (2006)
+ Ironman Lake Placid (2006)
+ Quelle Challenge Roth, Germany (2007) 11:04 PR
+ 6 Ironman 70.3 races: 5:14 PR
+ Vuelta de los Nueve Faros (2008): A 3-day, 385 mile ride circumnavigating Puerto Rico
+ Multiple 100+mile rides
+ 200 mile Relay Run: Reach the Beach (2002, 2003, 2004)
+ 7 Marathons including Boston and Chicago (2006) 3:15h PR
Patrick Serfass
RIDER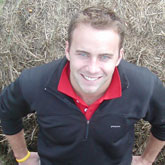 Hometown: Washington, DC
Yearly Milage: 6,000 - 7,500
Age: 30
Height: 5' 11"
Strengths: Desire and punishment
Weaknesses: Waking up early, cold weather, chocolate
Favorite Things: Going fast, surfing, anything chocolate
Favorite FUEL: Chocolate shake
Born and raised in Washington, DC, Patrick has been an athletic fiend from an early age. His first passions were swimming, crew and soccer. Biking was mostly considered a mode of transportation until Patrick's high school crew coach challenged him to his first duathlon (run-bike-run) in 1994. He soon fell in love with multi-sport races and became a bicycle messenger, racing around DC during the summers. Patrick credits his racing skills to his practice at bike messenger time trials.
In college, Patrick rowed and played water polo for Dartmouth while working as a bike messenger and competing in triathlons in the off-season. Since college, he has competed in dozens of triathlons, placing in the top three in his age group and top 5 percent overall several times, and completed many long-distance cycling events. In 2006, Patrick raced as a Cat 3/4 rider with the Jamaica Cycling Federation while living in Kingston. Now back in DC, he is a stalwart presence at many DC Triathlon club workouts and events.
Rides & Races
+ 2-person cross country ride in 2002: 3,300 miles in 31 consecutive days and no rest days, unsupported (carrying the tent, stove sleeping bags, etc.)
+ 2 Total 200 (2005, 2006): A one day, 200 mile ride near Washington, DC with Team Xtreme4's Eric Goetz (20+ mph avg).
+ Hero's Day Kingston-Negril: A 1-day, 143 mile ride in Jamaica from Kingston to Negril.
+ 2 Vuelta de los Nueve Faros (2006, 2008): A 3-day, 385 mile ride circumnavigating Puerto Rico also with Team Xtreme4's Eric Goetz and Andrea Vasquez.
+ Jamaica Cycling Federation National Time Trial Championships 40k, 1:01 (24.6 mph avg)
+ Various Ironman 70.3 races including the World Championships in 2006 (4:44)


2008 TEAM: RAAM Winners
Meet the 2008 team, all time record holder for 4 person mixed RAAM.
Riders »