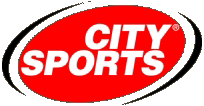 City Sports
www.citysports.com
Offering great products.
What's going on with citysports.com?
We're launching a brand new citysports.com, one that will provide a product mix and feel that our customers have experienced in our stores for years.
What's changed?
Since 2001, City Sports has partnered with a leading Third Party Solutions Provider. Working with this provider allowed City Sports to offer our customers the convenience of shopping online, along with a much larger selection of goods than we could stock in our stores. As City Sports has grown since 2001, we've developed an organization that is now capable of operating citysports.com in house. You'll see a product mix that's reflective of the award-winning assortment our stores are known for, and we'll integrate our stores and citysports.com better to make City Sports your top destination for all your athletic product needs.


Browse the Donation Registry »
Join Team Xtreme4 in our quest to Race Across America and raise awareness about alternative transportation options. By cycling continuously for about a week, we hope to inspire others to use carbon-neutral methods of transportation. We need your help to make this huge undertaking a roaring success. Your donation will both defray costs associated with the race and help us to offset our own carbon usage. We'll keep you updated on our efforts to stay green and raise the money necessary to take a team from one side of the nation to the other.