: Spread the word via social networks and email. « Back to Blog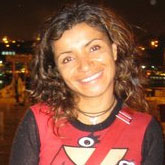 It's been a while since the last time I checked in. This coming Saturday will be 4 weeks after my accident and I'm finally feeling like my old self again!
I've been training at full mode now (with 2 workouts a day) and feeling stronger by the day. The first week back was slow, I was taking it easy and listening to my body. Mostly doing 1 day ON and 1 day OFF on the bike, just for 1h30 each time and mostly at aerobic base. This past week I started running and swimming as well and cycling every day (1h30-2h). My body still gets pretty sore from running (all the pounding) and from swimming (stretching my back) but I know it's a question of patience. I've been feeling great on the bike! Still haven't ridden outdoors, and I'm looking forward to getting to sunny Arizona this coming Saturday and riding A LOT in the 80s weather! The cold/wet/windy weather in DC hasn't motivated me to go outside, so I've been on my trainer the past 2 weeks.
I've been seeing Raquel every week after the accident and she has been helping me a great deal with my recovery! She is amazing and has MAGIC hands!
Olaf has also helped me stay sane and positive. He is such an encouranging person/coach, always knows what to say to make you feel good and see the positive/best side of things.
I'm still going to play by ear with Ironman Arizona. It's been a very bumpy 2+months with the bike accidents, but I'm going to see how I feel this week and I might just do it for fun and celebrate that I'm healthy and can exercise again (not for any PRs).
Really looking forward to seeing our Xtreme 4 rider, Eric, kick butt in IMAZ as well as Mariana. And also catching up with friends from Portugal and Boulder that are coming to do the race and cheer, Sedi, Helder, Hugo, Sergio and Joni (our sherpa)! It will be A LOT OF FUN!!!
More updates to come from sunny Arizona!
Andrea
PS: Thanks for all your good wishes, emails and calls, I really appreciated it!


Comments:
filling machine
by: filling machine - 09/29/2008 11:12 AM
We are sell yogurt filling machine,cup filling machine, cup filling machine etc.