: Spread the word via social networks and email.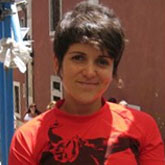 Less than two days to go and we have everything in place and ready to GO! We just came back from our vehicles and bikes inspection and everything went smooth, yeah! The riders were off for a spin and the crew headed back to the hotel where Dave gave us a demostration of changing flats on the vehicles. Now it's chilling time before dinner!

We can't wait to tear up the roads!

Our cars are looking HOT!

More later,

Mariana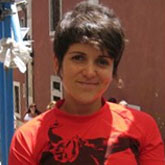 The race is getting closer and closer! Excitment is in the air...We still have lots of organizing to do before heading to Oceanside next weekend. This past weekend, we worked on our "chase" vehicle getting everything ready before Andrea's brother took it cross country yesterday. Lots of trips to the hardware store that's for sure! Today, we are organizing our "leap" vehicle and in the next couple of days a couple of the crewmembers will be taking it as well as our RV cross country.

Our jerseys are ready and look HOT! We have our rotations down, our plan, everything seems to be working out... we CAN'T wait for June 11th @ 5PM when we leave Oceanside!

Thanks for all our supporters and sponsors! Especial, thanks for Peter White for sponsoring us with some GREAT BRIGHT Bush & Muller lights - they last for more than 12h+!!! For Kashi for donating some yummy cereal and snacks. For Scott and CHB for all their work on the riders' bikes and especial thanks to Michele Buckley for lending her baby to Andrea! We really appreciate all your help and support!

Spread the word about Xtreme 4 and if you haven't done so, pledge to ride your bike, carpool or not use your car during our race!

GO XTREME 4!!!!

More to come...

Mariana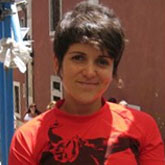 As Eric and Phil said, what a great training simulation it was! After our last 12hr exercise we knew were we needed to work and were better prepared to tackle the last 315 miles of the race course.

Andrea and Phil started and took on the monster WV hills (= STEEP - see profile below) at night and then Eric and Patrick got to ride on the surreal, misty and foggy Cumberland, MD to Pennsylvania. On the second shift, A + P had the beautiful scenic farmland in Pennsylvania and the historical Gettysburg while E + P had rolling Maryland towards their way to the ocean and the finishline in Annapolis.

From a crew perspective, it was great to see all the team work among the Team A sub-group and the mutual support within each single crew member and riders! We functioned like a well oiled machine :-) The chase vehicle were giving us (leapfrog car) live feedback to the riders on things they could improve and tweak as well as directions and things to look for, and MOTIVATION to the riders! "Attack, Attack, Attack"... "Vamos TORITO!"... "Faster, faster, harder, harder". The riders felt very safe and happy the way it worked. On the leapfrog car front, driver and navigator dealt well with motivating the rider (to eat, rest, feed us with their aches and pains as well as moods during their shifts), navigating the race course, dealing with minor issues such as getting lost 2 times, communicating with chase car and resting van, among other things.

Thanks Erica (Julie's friend) for volunteering her day/night to drive the resting van, it was great help!

Thanks everyone for amazing job, each of you contributed to a great training day! Lots of lessons learned that will help us move forward and be more efficient come race week!

I'm pumped to tackle RAAM! GO XTREME 4!!!

Here's a few shots of yesterday's adventure...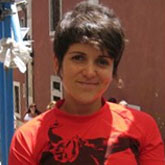 Yesterday we had a solid 12hr exercise to train our riders' rotation, team transitions, crew positions among other things, in Marshall, VA (on the Mt Weather and Piedmont routes). All went pretty smooth and it was great to see everyone excited and involved! We learned a lot from the experience and realized a few things that need to change going into our 24hr simulation next weekend. More to come soon...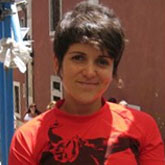 Today we had our first training ride, riders and crew members to simulate race conditions and test riders' rotations and rolling transition. The day started out bright and early at 7am at Christal & Eric's and then we headed out to the Total 200 course to ride: 2 chase cars, 2 leapfrog cars, 4 riders and 11 crew members. We split into the sub-groups and started practicing! Everything went pretty smooth and it was great training to find out what works and what needs tweaking... crew members's roles, navigating, race rules, riders' rotation & transition, nutrition, etc. Exciting stuff! We can't wait for June 11th... it will be a BLAST! More to come...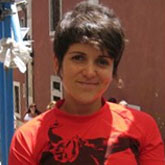 Another great day here in Las Cruces! We slept like 10hs (some of us more than others), had a nice breakfast, set up our bikes and off we were to the Transmountain ride (check it out here: www.mapmyride.com/ride/united-states/nm/las-cruces/388787148). The weather was nice and a little less windy than yesterday (but still pretty windy for what we are used in the Northeast). The first section of the ride is pretty flat for almost 40 miles and then you start climbing steadly for 9+ miles (very nice climb that reminded me of the Ironman Canada course) and do a loop back towards route 28 with some false flats. The wind coming back kept testing our mental toughness... we kept telling ourselves "this is good training for IM Arizona and RAAM, so just suck it up princess!". Andrea and I got separated from Jacqui at the beginning, so by the time we got to the hotel we figured she would be back already. As it turned out, Jacqui got lost and ended up riding 6+hs! Ouch.

We can't wait to hear the stories from the Tour of California! And how the weekend of the rest of riders/crew in DC is going.

Safe riding!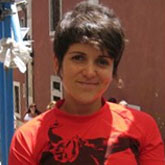 We are finally here in Las Cruces, NM after all day traveling yesterday and a few bumps along the way... Can you believe it actually snowed here last night?! Yup. It was colder than DC... Talk about escaping the bad weather... we were in the middle of a bad storm coming through. Today it was warmer, mostly 50s and the rest of the week is back to high 60s - low 70s... Our day started with a trip to the bike shop to get extra tubes, CO2, etc and then we headed to the pool for a nice 4,400m swim at the NMSU outdoor pool. We even got a tan :-) Then we grabbed some lunch and headed out for our easy 2hr ride... it turned out to be a toughie with 37mph gusts and it felt like we were going to fly out of our bikes! Jacqui, our friend/training partner/pro triathlete mentioned that it was Kona like winds... guess good training for IMAZ and RAAM!

Tomorrow, we have 100 miles (Transmountain Anthony gap century double climb) and a 40 min run off the bike = FUN!

More to come...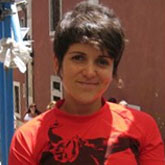 Yesterday we had another group meeting with all the riders and most of the crew members. It's so exciting to see this group growing together and so much energy in the air! The good news is that we have a potential big sponsor coming aboard very soon! More news to come.

Saturday we will do our first technical/logistical meeting before our long ride. Should be good practice with the crew to go over logistical issues and start going over in more detail about plan A, plan B, etc.

Training is coming along well and the weather has been merciful with us this week, balmy days with temps in the 60s. Can't complain! In 10 days, Eric, Christal and a few other friends are heading to California to do an epic training camp on the Tour de California course, and Andrea and I are heading to Las Cruces, NM to get in some good miles in the desert (and altitude)... we can't wait!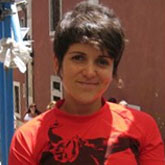 It's that time of the year when I start bonding with my indoor trainer and coach Troy's workouts. This past weekend I finally gave in when the temps were below 30F and the winds picked up. We had a couple of solid spinerval sessions with hard intervals and lots of sweating. Today again I had my usual Tuesday 1:30h hard interval session on the trainer while watching Kevin Costner competing in the Hell of the West cycling stage race in "American Flyers". I'm looking forward to the weekend in the 50s and some riding outside!






Stay in touch with reciprocal links between blogs. Contact us for info.


Xtreme4 RSS

See these and many more videos at our YouTube Channel