: Spread the word via social networks and email.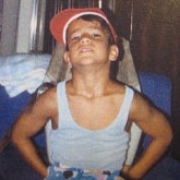 Race Total: 4:04:10
Swim: 24:10
Bike: 2:17:35 (24.4mph avg)
Run: 1:20:07 (6:07 per mile avg)

What a day! The swim was a rinse cycle, a tailwind carried us into Providence on the bike, and the run... that damn hill x 2!! What a beater! Couldn't have asked for better weather and a better result.

Looking forward to see where the RAAM training can take my cycling, but before then see you in Kona!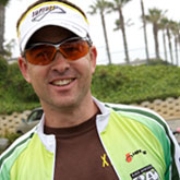 We had a record number turn out for Total 200- the fifth annual ride. Not having as many base or long miles in my legs this was going to be the toughest year yet for me. But with proper pacing and nutrition I felt I had a good chance at a good day. Let me say that again.. pacing and nutrition. I was good out of the gate and kept myself in check over the first couple small climbs as I warmed up. Not riding for the previous couple weeks wasn't optimal but I'm a new dad and those responsibilities have been a new ride for me. No complaints!

Anyway, I got off on the right foot but soon pumped up the tempo and took a good size group under my wing and flew to pit 1. So far so good. On the next section I shared the work. The following section (50-75 miles) was the breaker. I was rolling smooth but I got a flat just a few miles into that stretch and had to pull through on my own- not a bad situation to be in because I had my own pace, but admittedly I tried to catch them-what? Yeah, how the heck do you make up 7 or 8 minutes on a group of 20 taking rotations. Well, at the pit I was spent and only had a few minutes to catch my breath. Getting to lunch (mile 103) I knew I had sprinted too hard for a 200 mile day but what's done is done.

A few of us jumped to the fast group on the return trip so our lunch was short but long enough. The weather was great - in the 80's and the wind was now a predominant tail wind going back to DC. I always feel better after the turn and today was no different but the cramps started to creep in at 110 and I knew my pacing would slow. Bummer. I had to decide how long to push and when to drop off the back of the group. I did drop back some on the second to last and last pit. I felt lucky to only be back a few minutes and being able to start with the group at each pit. The last stretch my legs were half there but mentally I was twice as strong- the finish in sight always pumps me up. So even though those 17 miles were grueling I also enjoyed them. Coming in I noticed I was well above 20mph average for the day (under 10 hours for 200 miles) which was on par with other years.

We had a great group of riders and an even more dedicated group of volunteers that kept with us all day long. Pretty sweet for the training to get some long days in.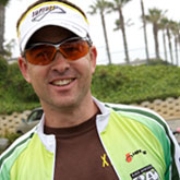 RAAM 2009 had a ton of races within a race and just as many inspiring athletes. If you haven't already, make sure to check out their website blog and videos. It's a great insight into the real stories going on throughout the race. Here are just a couple of the stories from this year.

CONGRATULATIONS TEAM CAN BE VENTURE
Patrick Doak, Carlos Moleda, Dr. Hannes Koeppen and Vico Merklein are extraordinary athletes doing extraordinary things. They rode on handcyles and knew that no team has ever completed RAAM in 9 days before on handcyles. They knew it would be really hard, they knew it would hurt (physically and mentally) and they knew they would do it. Failure was not an option. They arrived in Annapolis at 2.29am. The journey took them an incredible 8 days, 9 hours and 6 minutes averaging 15.02mph. THAT IS FANTASTIC!

ANN WOOLRIDGE, 50+ WOMAN
Ann has passed through Rouzerville, time station 49. She doesn't have long to go now. She is currently averaging 9.49mph and has been out there for 12 days, 16 hours and 23 minutes. It was a tough day in the saddle. Still rolling along with a panty hose bottle holder, a found object modified campy shifters, an ace bandage "Shermer neck" support and the relentless support of the crew. Ann will not be an official finisher but will likely secure the record for the fastest crossing by a 50+ woman. That record has been held since 1992 by Bonnie Allison.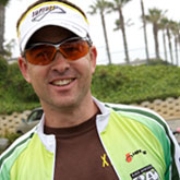 If you haven't been checking it out already - make sure to go to: http://www.raceacrossamerica.org
They have an alright blog which brings in little bits of info from the road about the teams and solo riders as well as all the TS (Time Station) data. I have yet to find out what the starting order was and the time difference- but likely like last year it was by team number every :30 seconds. So team 401 first then 402, 30 seconds later and so on.

It seems like they're really racing hard out there and have some great match ups on the road that will inspire them to push harder. It's always hard to tell what the conditions are like but they had an nice cool cloud covered start and this is a quote from the staff reporter:
"The desert winds were insane. Riders just enjoyed an 80 mile an hour tailwind that kept them cruising at 65km/hr."
-- Brandon

Now that's gotta be fun!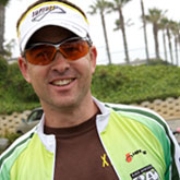 Awesome showing by Matias Palavecino (RAAM 2010) and Patrick Serfass (RAAM 2008) at the Dextro Energy Triathlon. Matias came in 2nd overall and Patrick was right on his heels at 11th overall. Very impressive - way to represent!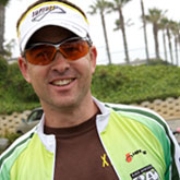 Great ride this afternoon- doing laps and pushing hard here and there for a nice constant- what? - yeah, like 8 laps. I think the first 6 were in under 50 minutes. Anyway, as I rode around the short loop I couldn't help but think of the solo racers on their way across Arizona today. Here I was breathing hard for an hour and they were just getting starting on a 10 - 12 day journey. 24 hours a day. That's a lot of loops. Those days don't include much rest, the clock never stops, decisions are made in a daze, and the miles blend all the towns you pass through. What a thrill they must be feeling. They get to let go of the reality we live in for a short while and just bike. Sure they might hallucinate. Possibly endure extreme saddle sores. But it's fun.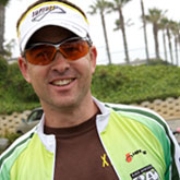 Yesterday I finally felt smooth on my TT bike with a glimpse of getting back to top shape. It was a cool morning and I was up before I had to get ready- a good sign I was well rested. I had no idea what my workout was going to be but when I showed up to the Point there was no real structure. We rolled out as a warm up and soon enough I saw Ryan "stroll" by at a good pace. Looked like he was doing a steady consistent effort and I kept him in sight and picked up my speed. We were rolling at about 25mph and I gave myself a mile or two to catch back up. After about four long loops (5.6 miles each) my average was well over 23mph and there were a few sipirited sprints on the back side to really push the heart rate. It was a solid hour of work with a warm up and cool down. All in all I felt great and ready to get back out on the longer intervals.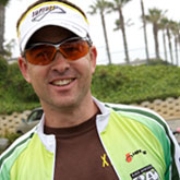 We went out for a 75 miler this past weekend. Our standard ride on Saturdays- out into the hills of north west Maryland. The pace was high right from the beginning and with each pull the intensity kept growing. None of the guys wanted to hint at slowing down and that drove us steadily right back home. It was a fast ride and we came in at about 21 mph average which for an early season ride with good size hills was great. The idea of competing in RAAM this year (2009) would be interesting but the reality of all the logistics and timing has us clearly focused for 2010.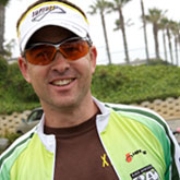 Other than the Lighthouse Tour most of the winter rides amount to a quick 40 miles with some short steep hills. It's routine but it does the trick. Today though we drove out to someplace near Annapolis (the official finish line of RAAM) and set out for a longer route. 70 miles was the plan, that grew to about 85 by the time we got back. We charged through with hardly any breaks and a steady fast paced effort of about 20mph on a "rolling" course. It was certainly not mountainous but it never really settled down to being flat or anything like that. It was a great ride though - strong riders that kept pushing and we tempted each other into taping our legs as much we could.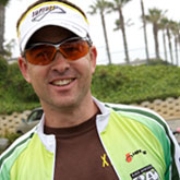 It's early for 2010 and we know it. But time flies when you start to plan for Team RAAM. We got some of riders and crew chief together last night to brainstorm on 2010, the team, the logistics, the cause - but mostly to see what the vibe is. Who wants to crush it and where does each person find the passion. The energy was high and it only ignited my desire to ride even more.

I can't wait. The feeling of flying down two lane mountain passes at close to 50mph in pitch black while negotiating to pass another team car... well you don't get to that every day. Who gets to wake up in the wheat fields of Kansas and catch the first light of day as your shift starts. Or not grasp if you're going up or down in the midst of a fog filled night in the hills of West Virginia- because it doesn't matter that you can't see a horizon or your computer, you're always pushing on the pedals.

I take it back- I once said it was fun. This is way more than just fun, it's like spiking your adrenaline for a week to the point that when you make it back home you just can't reacclimate to these "normal" days.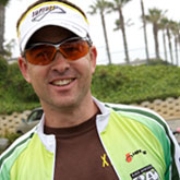 I just rode the Lighthouse Cycling Tour for the third time. This was the first time I took on the challenge without a full on training schedule in the works and a full season of races already planned out. You could say it's my off-season – the first one in a few years. And with about 400 miles in 3 days, the first being the longest at 160 miles, it really fueled the fire. Sure it was a bit painful here and there- mainly the lack of training miles in my legs but also the searing heat I haven't experienced since last summer. Going from below freezing temperatures in Washington DC to Puerto Rico, what I call double 90 (90 degrees with 90 percent humidity), is both a blessing and a brutal assault on your starved muscles. But it's fun. So I'm jazzed about getting back in the saddle- riding across some states- trading in a bbq for a double century, putting some serious miles.

When I get back from my week off- the plan is to stir up the team. Get them thinking and gear up the right group to go back and push hard in 2010. Every minute counts and there ain't no coffee shop rides.






Stay in touch with reciprocal links between blogs. Contact us for info.


Xtreme4 RSS

See these and many more videos at our YouTube Channel