: Spread the word via social networks and email.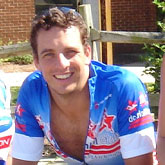 It's been a couple days, I think, since I last posted. I know we've
(me and andrea) have ridden utah, new mexico, colorado, oklahoma, and
kansas. Obviously we've just done segments of those states, but I have
seen some spectacular scenery (and missed a bunch (nighttime)). Tops
was a stop where we exchanged in new mexico in the mountains.
Beautiful. Low point was (scenery_wise) was the first half of kansas -
flat, hot and dusty.

We're in 3rd place right now of all the 4-person teams (all male and
mixed). It's awesome. We should have a fast night and hopefully make
up some ground. (1st place is only an hour up, so its totally doable).

Anyway, we're in a groove. Which for me consists of riding, eating,
sleeping and not much else (except sweating and drinking more fluids
than I thought possible).

Next shift will be from 1 a.m. to 6 a.m. which can be a little brutal,
but sunrise is great and we have a fun time.

Next 'stop' Missouri.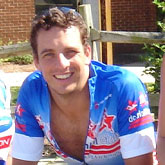 Andrea and I took over for our first shift in borrego springs. Eric
and patrick had put in a super solid first segment and we were right
in the mix. It was difficult riding, mostly because it was so
unbelievably hot but also because there were so many teams on the same
segment of road. We had some trouble with teams who didn't want to be
passed but we handled that by passing them and leaving them in the
dust. We finished up and I had to do some icing to get my core
temperature down- I was that hot. We slept and later that night took
our next shift. We rode across some arizona valley floor and then up
the side of a mountain. It was a much more manageable shift but we
were very sleep deprived. We chased a team all the way up the
mountain, narrowing the gap significantly, and then turned it over to
eric and patrick.
Our next shift took us up another mountain- which was very enjoyable
really. I got a screaming descent down through jerome arizona and down
to cottonwood (??). As I was going down I had to ask cars to get out
of my way- and they did.

Our last shift took us from flagstaff through TUBA CITY and the navajo nation.

Now we should be sleeping in preparation for our shift tonight.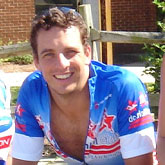 As all the others are saying, race day is here. In a few short hours we'll do a parade start and then the real race begins.

I'm nervous and excited. It's hard to be really nervous--I really don't know what to expect. I'm pretty confident in our strategy. We have plans, back up plans and back up plans for the back up plans. It should be smooth.

I spent much of yesterday helping Lee, our mechanic, fine tune all the bikes. Really I just stood there and asked questions. But I felt helpful. The bikes are running smooth. I just can't wait to get on one and start it up.

We'll have a hot and hilly first 24 hours (well, really first few days), but we're rested and fairly relaxed so it shouldn't be too bad.

I can't keep a train of thought here so I guess I'm going to sign off before this become even less coherent.

More to come as we hit the road.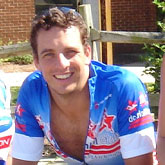 So I've always poo-poo'ed zipps and other high end wheels. I figured, how could they honestly give you 2000 dollars worth of speed? I mean that's a lot of money for a just little extra rim and such. Our sponsor, race day wheels, gave us 5 pairs of Zipp 404s for the race, and today we took them out for a test spin. I knew something was different when on a light sprint Patrick turned to me and said "we're going 32 mph." Um, whoa nelly. I guess Zipps *are* worth it. I'm now a true believer. And I'm scheming how I can get a set of my own. There is a casino just down the road... -- Philip Schmidt http://xtreme4.com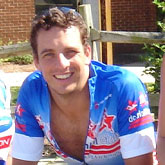 Well, we pulled it off. We spent from 8 a.m. until 6 p.m. in a parking lot. What did we do in said lot, you wonder? We: *Put reflective tape on many parts of many bikes; *wired the various vehicles with lights and sound; *roasted in southern cali sun; *put our decals everywhere on the vehix; *sorted the ten tons of stuff we have and packed it in the vehicles; and *ate some food. Sounds fairly trivial, but it all had to be done for bike and vehicle inspection tomorrow. There's a time penalty for any missing equipment etc., so we had to get it all set today. Spirits were high and though it was a long day, everyone was happy to be getting it all done. We're all set for the inspection and it's a good feeling. Stay tuned...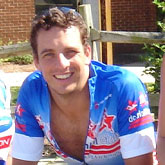 I opened my eyes this morning to a beautiful sight--my merlin sitting on some zipp 404s. Our sponsor, raceday wheels (racedaywheels.com) delivered 5 sets of the 404s to the hotel. What a service. In other news, we're almost a complete team. We'll spend the morning getting the vehix/bikes ready for inspection. We'll also make our way to the hotel in oceanside. Stay tuned.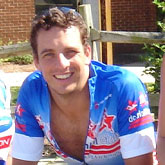 I arrived here this morning in SoCali. I met up with Eric, Christal, Mariana and Andrea at the San Diego airport. We went to the hotel and got a nice leisurely lunch. We registered and picked up our packet(s) and checked out some other teams' vehicles. They don't got nuthin on our setup. The team has been trickling in little by little. The people who drove the RV, van and car all arrived last night. Others flew out earlier. The full team will be here by sunday. Woot! I'm very excited, and would be nervous but I honestly don't know what to expect. The energy is good-all the stress of the past few (six) months is sort of melting away. Can't wait to hit that open road.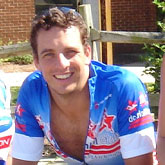 Well, the title makes it sound like things are paused, but really they are actually in a state of hyperactivity. So much to do, think about, plan, discuss, buy, arrange, organize, and keep on schedule. It's a massive undertaking to get 18 people organized for a non-stop race. It's mind boggling the amount of details that have to be run down. But we're getting there--and we're feeling great.

As I read before bed the other night, I stumbled across this quote. I think it's exactly where we are:

"In this breathless pause at the threshold of a long passage we seemed to be measuring our fitness for a long and arduous enterprise."

-Joseph Conrad, The Secret Sharer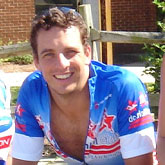 One of our taglines is that the riders going to burn 250,000 calories during the race--that's back of the envelope math, but it's probably not too far off. We have a great sponsor in Infinit, which is providing us with more than enough of their customizable sports drinks to get us through the race without solid food if we wanted. But solid food is nice, and we are getting some great donations from other companies.

One of those is Kashi--where a friend of a friend is got the company to hook us up with about all the product that we can handle. It's great stuff and well-liked by crew and rider alike. It did come with a small warning; it's VERY fiber rich, and if you eat too much, uh, emergencies can happen. TMI? Perhaps, but actually a good thing to have in mind.

Also, a friend at ClifBAR sent us a large box of product including bars and shotblox that we're really looking forward to eating. I spent some time at their HQ in Berkeley, CA a couple weeks ago, and have to say that I was really impressed with their whole operation. Very green, very community-oriented, and very good to the employees. I'm looking forward to tearing through more than a few of those bars and the other products as I eat my way to 1/4 of the 250,000 calories...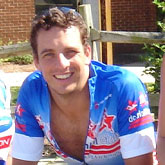 This morning, Team Xtreme4 put out the following statement to friends, supporters and the media.

TEAM XTREME4 URGES AMERICANS TO BIKE TO WORK
DC-based team gearing up to race across the U.S. to promote carbon-friendly transportation choices

Washington, DC - May 14, 2008 - During national Bike-to-Work Week, Team Xtreme4, a team of elite cyclists competing in the 2008 Race Across America (RAAM), called on DC residents, supporters and friends to give up their cars and bike to work. In June, Team Xtreme4 plans to cross the country in six days of non-stop cycling to inspire others to use alternative modes of transportation. Supporters of Xtreme4 have already pledged to walk or ride almost 50,000 miles instead driving during the race week, reducing their carbon footprint by more than 24 tons.

"Biking to work is one of the easiest ways to reduce your carbon footprint," said rider Patrick Serfass, "and it really adds up. In one week, our supporters are going to reduce their carbon consumption by more than the average American consumes in an entire year. Seeing this kind of impact inspires us to train harder in these last few weeks. At this point, we're ready to complete our two goals: win the race, and spread the word about carbon-friendly transportation alternatives. It's an exciting moment."

The Race Across America is an extreme multi-day, non-stop bike race from the West coast to the East coast. Known as "The World's Toughest Bike Race!" this annual competition started in 1982, and has recently gained national prominence. The 2008 RAAM start line is in Oceanside, California; the finish line is over 3,000 miles away in Annapolis, Maryland.

"We have many people signed up to go carbon-neutral the week that we're racing, which was one of our original goals," said Philip Schmidt, also a rider. "Many have pledged to leave their cars at home for the week, and others have chosen to offset their carbon output through our carbon credit sponsor, NativeEnergy. It shows that when you're doing something crazy, and perhaps inspirational, you're able to motivate others to make a difference too. We're just thankful that so many people and companies have taken a look at what we're doing and signed on. We can't wait to race and make them all proud."

The team has done multiple race simulation events, including one that lasted a full 24 hours. Starting in West Virginia, they rode 350 hilly miles in 20 hours all the way to Annapolis following the actual course they'll be racing in June.

###

Team Xtreme4 is currently sponsored by:
· Carbon Management Council
· USAT Mid-Atlantic
· Native Energy
· Capitol Hill Bikes
· Fragers Hardware
· Infinit Nutrition
· Race Day Wheels
· Quozo Endurance Sport Coaching
· Spiuk|DPMSports.com
· Erin Baker's Wholesome Baked Goods
· Beljum Budder
· DC Triathlon Club
· Healing Hanz Alternative Therapy
· City Sports
· Results the Gym
· Kip Pierson Photography
· Ergomo
· Derma Hair Care: MediSpa
· SportsLegal Forms.com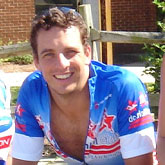 We're gearing up for our first 24-hour training event. We'll be heading out to Grafton, WV tonight and riding the actual RAAM route all the way in to Annapolis. It's gonna be hilly. Should be doing four shifts total for about 20 hours of riding and 4 hours driving out there. It's gonna be tough. It's gonna be rough. It's gonna be a blast.

Here's the route, roughly:

UPDATE: Part of the team finished up their portion of the 24 hours at 3 p.m. this afternoon. The others will be done in the early evening. The course was great--hilly and remote. It's gonna be a great race and this is the last portion. We'll be digging deep to get through these hills of WV, Western MD, and Pennsylvania. Our plans for logistics worked out well. We were in the right place at the right time, well fed (not totally well-rested, but hey it's race simulation) and we felt safe riding at all times.

I'm going to sleep for about a day but want to leave you with the following thought: 40+ mph downhill in the dark. Xtreme. Nuff said.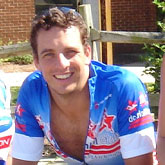 With a few days under my belt to recover, the 12 hour training event/race simulation is looking better and better. As you've seen from previous posts, we drove out to Marshall, VA, and rode a series of shifts all through the night. When we were off we tried to sleep at a base camp we had set up in a parking lot there. Average number of hours of sleep was probably around two, so we were some tired folks when the event ended at 8 a.m. I'd say the way to describe our mood after the event was exhausted and excited.

Marshall is at the foot of the mountains, so all the riding we did was on hills. You were either going up one or coming down one. It took its toll on our legs by the end, but it was great training for RAAM. As we looked at the actual route in preparation for our next training event (24 hours) I realized that the way we will be coming through WV and western Maryland is gonna be pretty brutal. I did the bike portion of a triathlon called Savageman out there (actually one valley over from the RAAM route) last summer and those hills are steep and deep.

Anyway, back to the 12 hour training event. Each sub-team (Eric/Patrick and Andrea/Phil) did two shifts. Eric and Patrick led off, riding from approximately 10 p.m. to 1 a.m. covering around 60 miles. Then Andrea and I did the same route from 1 a.m. to 4 a.m. Then it was back to Patrick and Eric for round two and then back to me and Andrea.

We learned a lot--both riders and crew--that is going to help us refine our strategies and procedures. One thing became very clear to me--sleep is going to be PRECIOUS. Nutrition and communication will be vital too. These are things we knew, but this event really helped cement the idea.

Next up, a 24-hour race simulation on the actual course. Stay tuned...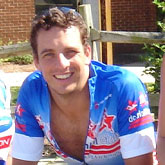 With help from our sponsor dpmsports.com and its owner Ed Uribe, I pieced together a new all carbon fiber TT bike. It's a Dolan Aria, which is handbuilt by an English framebuilder with a sterling reputation. They say the Aria TT is "the ultimate time trial machine" with "12k weave monocoque carbon frame with horizontal dropouts for optimum aero rear wheel positioning and an Alpina integrated headset."

As the frame sat there in my house, while I waited for parts to come in, I got more and more excited about it. It looked super sleek. Finally all the parts, components and random assorted crap came in.

Lee from Capitol Hill Bikes (and xtreme4's trusty mechanic) put it together over the past couple weeks in his spare time. The weather was not great so after taking delivery, I rode it a little on the trainer early this week and it felt great there. But who cares what it felt like stationary! I needed to get out on the open road.

Thursday morning my chance came. I rode down to Hain's Point with the regular DCTriClub gang and let her rip.

HOLY CRAP. It's like riding a motorcycle (with pedals). Another rider came by and said "that thing looks like an airplane." It feels like it. What a great bike. This is going to be my primary bike for RAAM and I'm really pleased with how it came out. See the attached picture for a view of the steed.

Finally, a HUGE THANKS to sponsor dpmsports.com and Ed Uribe. This is a sweet sweet bike and all the credit is due to him.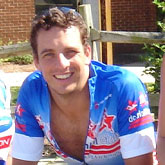 All of us on the xtreme4 team are triathletes--meaning besides our bike training we're running and swimming too. The cross-training is very valuable-and keeps us sane.

I've been wanting to do a marathon for quite some time, and decided to do one this spring. On Saturday, with many xtreme4 teammates cheering me on, I ran the National Marathon here in DC. I had a sense that I could probably shoot for a sub-3:10 time (and thereby qualify for next year's Boston Marathon). So I wrote the splits that I would need for that on my arm and hoped for the best. The morning was perfect--cool and overcast, but not too cold. I felt good and had to hold myself back for the first few miles (didn't want to blow out the legs too early). Along I trotted, snapping off miles in the high 6 minute range--on track for my goal.

Fast forward a few hours and I was realizing that I was ahead of a 3:10 marathon. Ahead of a 3:05. I was ahead of a 3:00 hour marathon. I kept feeling great through mile 24.5--and then hit a series of hills. I suffered some cramping in the calves for the last couple miles through these hills, but had some company for the last mile--Paul rode alongside me on his bike.

Final time: 2:58:17!

All I can say is that Olaf's program WORKS. The intensive base training and cross training has built my aerobic capacity up significantly. And I'm going to Boston next year!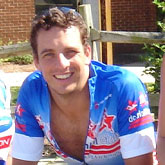 Before our training event, I drove up to NJ to see one of our sponsors, DPMSports about a few aero helmets, some glasses and a new bike frame for me. I got a full carbon TT frame and will be building it out over the next few weeks. It looks sweeeeeet even just sitting there on my living room floor.

Some of us threw on the helmets and glasses for the training event on Sunday and I have to say, we looked pretty awesome. But seriously, the glasses felt great on and didn't fog up or anything--and the helmets, well, they felt pretty damn sweet too. The wind noise is much reduced with the helmets on, which I assume is due to the aerodynamics.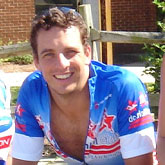 Yesterday we had unseasonably warm weather here in DC -- 70 degrees and sunny with a light breeze. Glorious stuff. I went for a nice long ride, changing the normal route and heading out into Northern Virginia. (Normal route is often a ride from the Hill to Poolesville, MD.) It was great to have a change of scenery and terrain, and though there were a lot of people to avoid, I was able to hammer through some sections at 26-28 mph.

I also rode the TT bike, which I have been avoiding for a while (tight hips/glutes make the agressively forward position less comfy than a regular road geometry). Felt great--really speedy along the flats.

I did 50 or so miles with Laurel and Joe, and then did a few extra laps down at Hains Point to get the mileage up.

After all this cold-weather riding it was really great to get a reminder of how fun it is to ride. No cold fingers or toes, no frozen water bottles. What a day! I can't wait for spring and consistent weather like this. It'll be hard to get me off the bike.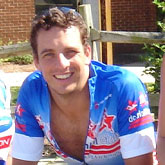 In addition to their partnership on our carbon-neutral pledge for our supporters, NativeEnergy has just donated the full offset for our team to be completely carbon-neutral for the race week.

With 14 people flying from the East Coast to the West, and 4 vehicles driving them all back across (one vehicle will go round trip), it's a bunch of carbon we would have emitted. Now we'll be neutral. This is the central theme of our team's effort; it's not that hard to be carbon-neutral in your transportation choices.

To give you a sense of how easy it is, let me tell you how long it took me to arrive at the total for all that milage. I went to NativeEnergy's site, plugged in the destinations, vehicles/flights, and multipled. It was done in about 2.5 minutes.

OUR TOTAL OFFSET: 25 tons of carbon will not go into the atmosphere as a result of Team Xtreme4 doing RAAM. Thank you NativeEnergy.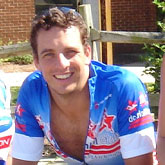 We had a great training ride this weekend. (Andrea was still out from the wreck in Puerto Rico, but she's on the mend physically and rarin' to go. I'm sure our Torito will be charging up the hills again really soon).

The ride -- from Capitol Hill to Poolesville and back -- was in a word a total hammerfest. Factors? Well, Patrick seems to have increased his strength exponentially down in Puerto Rico, and Eric was off the powermeter on his (sweet) loaner bike. Weather was cool but not cold. Other than that I guess we were all just feeling pretty good.

I was happy to be in such fast company, pushing each other and just generally eating up the miles. We all had a 2 mile brick run after the ride scheduled, which felt to me like running on a pair of leaden legs, but that sort of cross training really helps aerobic conditioning and prepping for triathlons (don't forget that we're all signed up for multiple long triathlons this year, some sooner than others).

The lead legs seemed to evaporate for me the next morning as I P.R.ed at a DCTriclub 10K. Eric was movin pretty fast too. The moral of this story? We seem to be getting stronger and fitter--and quicker than I would have thought.

Sunday: xtreme4 photoshoot. Details on that to follow.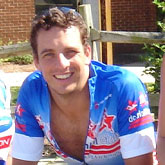 I got nothing like the war stories coming out of P.R. -- but I'm very glad to hear that everyone is alright down there. Two crashes with minimal (sorta) injuries is what I call bad and good luck. I had some of that mix myself today. Got up to a frosty morning in Charlottesville (wild night at Applebees the night before--me and all the, uh, hefty folks in that neck of the woods, just gobblin down the calories). The temp was a balmy 24 when I woke up at 6:30, so I decided to lay in bed a little while longer. Rolled out around 8, with full water bottles and a Clif Protein bar under my belt. I wanted to get some miles in and then stop for a real breakfast.

The ride from Charlottesville to Culpeper is NOT FLAT. I would get up to the top of one hill and see another, or another 15 ahead of me. Luckily the legs were feeling good, and the temp was about 28, which was a little more tolerable. The hills went on for the 45 miles into Culpeper, where I stopped for "breakfast," again at the aptly named Frost Cafe.

While I was eating, I IMed with Laurel, who told me that Sunday was not gonna be any warmer, and that in fact there were predictions of snow. I decided on the spot to throw in the towel (so to speak) and ride the 75 miles back to DC, to avoid another freezing morning and especially one with SNOW.

A couple hours later I rolled into Manassas, and had a nice latte, and another clif bar. By this time it was around 2 p.m., and I had eaten two clif bars, a breakfast and some gu. This proved to be a mistake, as I was bonking pretty hard coming into DC. Lesson learned.

One other little mishap: I missed a turn and ended up on Rt. 50 for much of the way from Fairfax into the city. I had been riding on 4 lane highways, but this was a divided 6-laner. Combo that with some bad shoulders, bonking, and the beginning of dusk, and it was a dangerous situation.

I made it, however, and jumped in an epsom salt bath, which was just what I needed.Final milage: 119. Temp at roll in: 35. Brrr.

I figure I'll run with the DCTri gang tomorrow and spend a little (2 hours??) on the trainer, to get the lead out.

Epic weekend for Phil? Well, 236 miles, solo, in sub-35 (and sub-30) degrees, with a backpack? Yeah, I'd call that epic enough to qualify as xtreme.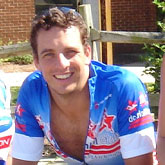 Day two route: Charlottesville, VA back to DC
View Larger Map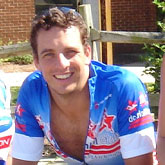 I got up this morning and lay in bed for a little while dreading hearing the temperature. After a couple minutes, my fears were realized: 22 degrees with a light breeze. Yikes! I ate and hit the road, passing a time/temp sign at 7:23 when it was 23 degrees.

It was freezing. I wore wool baselayer, long sleeve heavy jersey and a wind proof shell, windproof fleece hat, long tights, full booties and toe covers (and light wool socks).

I cruised out through arlington, on washington blvd till fairfax. I had to stop at a starbucks there for 20 minutes to dethaw. By then my water bottles were frozen.

Next stop was somewhere past manassas, in other words, past the exurbs. It was fairly hairy riding till then--lotta traffic and with my pack on, turning my head to look back was a little difficult.

The countryside was pretty, and the hills picked up. For the rest of the ride it was constant hills. By just before lunch I was bonking pretty hard, despite eating more than enoguh. In retospect it was my frozen water bottle situation and the need to expend extra calories to stay warm. A gu and a mouthful of wwhat litttle water I could defrost and I was ok to make it to lunch.

Took a long lunch in Culpeper at a great cheap cafe appropriately named the "Frost Cafe." Drank a lot of water. Warm, full, and hydrated, I rolled out. 45 miles to go.

Those turned out to be hiillier still. Difficult stuff. But the temps were up and I was cranking. I rolled into Charlottesville in late afternoon. Found a hotel, took a long bath and chilled out (warmly). Final mileage: 116. Temp in Charlotteville upon arrival: 34 degrees. Pretty xtreme ride. Hope the other folks are enjoying P. R. I'm jealous, but feel good about my ride. Tomorrow: 85ish. Miles, not degrees!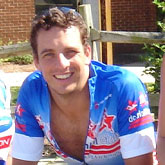 DC to Charlottesville, VA
View Larger Map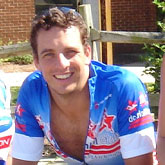 I couldn't swing the trip to Puerto Rico with the rest of the team, so I'm doing a little epic weekend of my own (in much colder climes). The plan is to head out on Friday for Charlottesville, VA, which is about 112 miles from here. Provided I don't freeze, I'll spend the night down there, ride up along the foot of the Blue Ridge mountains on Saturday--and stay somewhere 60-80 miles up the road. Sunday I'll ride back home from wherever I find myself. I should get it 250-275 miles, which is not quite as epic as the Puerto Rico trip, but hey, the cold has to count for a little bit more suffering, right? I'll email in blog postings too. Stay tuned.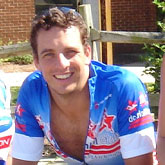 Recently the Xtreme4 gang has been laying down the hammer. And not just on the bike. I'm pretty amazed at some of the training that's been going on -- both riders and crew.

We've been tracking our mileage for a USAT club challenge in which clubs compete to see who can rack up the most mileage. Check out some of these stats for December (which was focused on swimming):
| | | | | |
| --- | --- | --- | --- | --- |
| Name | Swim | Bike | Run | Total |
| Laurel Brown | 23.1 | 391.5 | 53.45 | 468.05 |
| Paul Contino | 30 | 49 | 5 | 84 |
| Eric Goetz | 10.22 | 334.6 | 63.6 | 408.42 |
| Mariana Pargana | 62.01 | 450 | 171.5 | 683.51 |
| Kip Pierson | 27.69 | 849 | 38 | 914.69 |
| Philip Schmidt | 26.68 | 362.15 | 58.04 | 446.87 |
| Patrick Serfass | 4 | 165 | 56 | 225 |
| Andrea Vasquez | 29.6 | 612 | 74.3 | 715.9 |
Keep in mind that these totals included a week off for most -- holidays and all.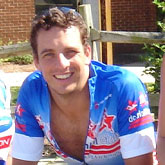 One of our sponsors, Spiuk, is having a winter clearance sale. There are some great deals here open to the general public.

Check it out: www.dpmsports.com/clearance/index.html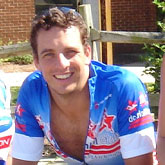 Team Xtreme4 is officially competing in the 2008 Race Across America. We registered today.

Oceanside (and the whole rest of the nation): HERE WE COME!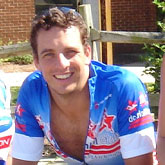 Despite a workout plan that called for 70 easy miles on the bike on Saturday and 7 running on Sunday, I managed to work out pretty much the whole weekend through. Cross training is good, but this may have been a little much.

I woke to a very soggy Saturday morning (with tired legs from a run Friday night) and quickly decided that I would be on the trainer. Our coach says that 1 hour on the trainer can be the equivalent of 1.5 or even 2 hours outdoors, because you get no downhills, no coasting, no rest. So I clipped in with Andrea, Mariana and Coach Troy (a spinervals DVD) and we burned through 2 hours of pure pain. I lost probably half my body weight in sweat, and loved it. From there I went straight to the pool, where we were celebrating a friends 25th birthday by doing 25 x 250s. I had extreme cramping problems throughout that swim set--caused I'm sure by the sweating.

Sunday: swim meet in the morning, followed by an hour on the trainer in recovery mode, and then off for a 7.5 mile run with the whole team. Great run, and fun to be all together working out. We ran instead of riding because the weather this weekend has been so bad that riding has been all but impossible. This coming week doesn't look to be much better, but I'm going out regardless. I can't take many more trainer sessions (much as I love Coach Troy).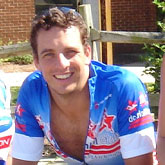 I was out this weekend for a nice 50 miler with a group that included some road racers from Route1Velo, a local racing club. Coming from a triathlon background, I'm used to long rides at moderately fast paces. This ride was like that except for one added ingredient: Attacks. These guys would attack on hills and certain straightaways and man, it was all I could do to keep on them. Attacking uses those sprint muscles that I've spent the past few years actively NOT developing. It is heartening, however, to know that even with my triathlon background I'm able to keep up with the road-racers (in training). Kind of a mental boost. And who knows, maybe those sprinting fibers will come in handy toward the end of the race (but I doubt it).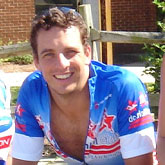 The past couple weeks I've been going hard--riding at every opportunity, and pushing it while I'm out there. We've had some great training and my legs are feeling it. Though I haven't kept a super-faithful training log, I know I've done many hundreds of miles in the past couple months. And there are many hundreds (thousands really) more in the near future.

Luckily for me, I'm headed to Key West for a friend's wedding, and some much-needed R-and-R. Let me qualify that "R-and-R" a little. Though it's time off, I plan to run and swim down there, to keep the aerobic base training going, but I won't be on a bike for a few days. Is it strange to think of that as R-and-R?

Things are really coming together in the planning and sponsorship department and I look forward to reading updates from down there. RAAM participants from past years have been extremely helpful in giving us planning advice--and it's very much appreciated. This is a very complex undertaking and having first-hand knowledge at our disposal has been really helpful. But there I go again--I'm supposed to be checking out, and instead I'm getting revved up about the race.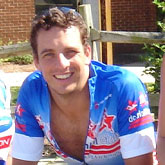 We're on a roll this week -- just got word from dpmsports--the distributor for Spiuk products (aero helmets, eyewear, and shoes), and Dolan bikes -- that they have agreed to partner with us. It has become pretty clear that aero helmets offer a great deal of time savings over the course of a triathlon (even down to the olympic distance) -- so we're very eager to use them for 3000+ miles. If you can save a minute or two over 24 miles, think how that adds up over 3000 miles.

Once we get geared up with this stuff, we'll let you know how it feels and what we think. For now, just a big thank you to the guys at dpmsports for getting us aboard and a reminder to all you readers to check out their site. Also, while you're there, take a look at who they already sponsor; it's an awesome list of athletes to be joining.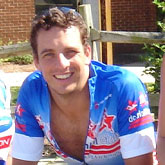 Our team decided that we'd focus the attention that we will be getting from the press and others on environmentally-sound transportation. We think that we can really give this cause a serious boost. I think one sentence sums it up best: "If we can ride 3000 miles in less than a week, you can ride three miles to work once a week." People always have an excuse (we're all guilty here). "It's too cold." "I need a couple more minutes in bed." "I would arrive at work sweaty." We think that the way to combat climate change is to take small steps--like riding to work even when it's more convenient, warm, and generally easier to drive.

We think that by telling the story of moving a team of 4 and a crew of more than 12 across the country and back with zero carbon output, and riding more than 3000 miles, non-stop, we will raise people's awareness and challenge their beliefs about what can be done on a day-to-day basis. We plan to fully offset our carbon emissions (cars, RVs and plane trips) and eat/drink organically (when possible). Getting the $$$ for carbon offsets is a challenge, but challenges are what we are about.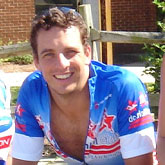 The weather finally turned here in DC, and though it was sunny for most of the weekend, it was cold! My blood is still thin from summer and the warm fall that we've had. As a result, I spent a bunch of hours on the trainer this weekend. It's a sweaty, boring endeavor, but it has to be done. I also plan to start riding the trainer before workouts--gotta get that milage up.

Speaking of getting the milage up, right now we're looking into various coaching services. This is going to be an important part of the training regimen. While all of us have multi-sport and endurance backgrounds, training for a non-stop, multi-day event is far different than training for a mere Ironman. We'll need the professional advice that a coach or coaching service can give to make sure that we're not over- or under-training. I don't want to spend any more time on that trainer than I have too...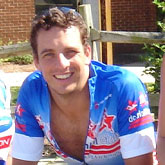 Bike training in the DC area is both monotonous and exciting. How can that be, you ask? Well, it's fairly monotonous here in the city and the near-in suburbs. We end up riding the same routes over and over, and most of them are fairly (or extremely) flat. But get a little outside the metropolis, and you can find beautiful country roads with rolling hills and the occasional serious climb.

Most of our weekday training happens down at Hain's Point--a public park area behind the Jefferson and Lincoln Memorials. We do loop after loop of the very flat road--working on speed through intervals but we're really just getting the miles in.

Weekends, however, are a little different. Then we get on the bikes and head out of town. Often we end up out by Poolesville, MD, which is a great starting point itself. That's about 35-40 miles out from the center of the city, so it makes for a good out and back ride. If weather cooperates, we should be getting together a ride out there this weekend--with our team and other riding partners from the DC Tri Club.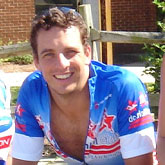 Some of the team met last night for more planning. Good session—lots of new ideas, and lots of stuff to do. Don't worry, we're not ignoring our training: We rode together earlier in the day, averaging about 25 m.p.h. over a short pre-work workout. But back to the meeting. One of things we talked about was bike choices. We certainly plan on being on TT bikes for most of the ride (better aerodynamics, and less upper body fatigue), but we'll need regular road bikes for climbing and such. As triathletes, all of us are comfortable on the TT bike, but a road bike is more relaxed and forgiving. I personally will need to spend a lot of time stretching during our training months, as the aggressive posture of the TT bike is like doing a forward bend from the hips; hard for me because I'm not all that flexible. I guess that on either style bike it's gonna be a long, long time in the saddle, so above all, we'll need to get fit perfectly.

These are the types of technical questions we're thinking about 8 months out.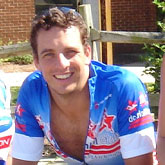 We got word that this year's race will end in Annapolis, Maryland. We were discussing that finish line and couldn't think of a place on the East Coast we'd rather have the race end. At 30 short miles from DC, it's practically finishing at home. Plus the last few hundred miles will be through country our team has rode many times. We also realized that this will make our media plan SO much easier to implement. We will be one of the local teams--and with our connections to the local media and the extreme nature of the race, this will be a great benefit.

We're looking forward to organizing a huge welcoming/post race party in Annapolis with all our friends, family, supporters and everyone else. Crabcakes and a few cold ones could be just what the doctor ordered after 3000-plus miles...

As a celebration, we rode out to Annapolis and back, making sure to stop for coffee when we were there. With a road closure we ended up doing about 85 miles.






Stay in touch with reciprocal links between blogs. Contact us for info.


Xtreme4 RSS

See these and many more videos at our YouTube Channel