: Spread the word via social networks and email. « Back to Blog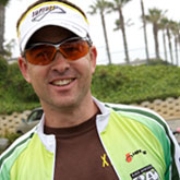 We went out this morning on our usual training ride around Hains Point- dodging all the debris from the flooding the last few days. It was like a video game trying to avoid the monster tree limbs and trash that was swept up by the river. The up side was the gate was closed off to traffic so we had the point to ourselves. We also tested out the rider radios from rider to rider but also back to the car - Kip was taking pictures while his brother was driving. That allowed us to really get a sense of how clear you could get directions from the chase car. Next up is to see what kind of distance they work at to possibly talk between support vehicles as well. One interesting aspect is that we could all be on the same channel and essentially have a discussion style communications on the fly. Just in the course of a half hour we got the feel of how they worked and felt like second nature. We'll get plenty of time to test it even further on our 24 hour race simulation this weekend.












Stay in touch with reciprocal links between blogs. Contact us for info.


Xtreme4 RSS

See these and many more videos at our YouTube Channel