: Spread the word via social networks and email. « Back to Blog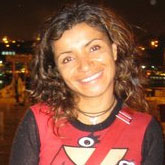 Most of us arrived today to San Diego. (Eric, Christal, Phil, Paul, Laurel,Andy, Raquel, Julie, Kip, Patrick, Mariana and myself). Dave got here yesterday. We have our vehicles here, our bikes, most of the crew...everything is coming together nicely. We went to get registered, and it was so exciting to get our race numbers,RAAM stickers, route book, signs, talk to the race official etc.
We have a full day ahead of us tomorrow getting the cars and bikes ready for inspection. Finally the awaited day is so close!!! So close it is a little scary! :) But very exciting!
Pictures and videos coming soon...