: Spread the word via social networks and email. « Back to Blog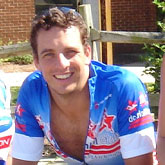 We got word that this year's race will end in Annapolis, Maryland. We were discussing that finish line and couldn't think of a place on the East Coast we'd rather have the race end. At 30 short miles from DC, it's practically finishing at home. Plus the last few hundred miles will be through country our team has rode many times. We also realized that this will make our media plan SO much easier to implement. We will be one of the local teams--and with our connections to the local media and the extreme nature of the race, this will be a great benefit.

We're looking forward to organizing a huge welcoming/post race party in Annapolis with all our friends, family, supporters and everyone else. Crabcakes and a few cold ones could be just what the doctor ordered after 3000-plus miles...

As a celebration, we rode out to Annapolis and back, making sure to stop for coffee when we were there. With a road closure we ended up doing about 85 miles.






Stay in touch with reciprocal links between blogs. Contact us for info.


Xtreme4 RSS

See these and many more videos at our YouTube Channel