: Spread the word via social networks and email. « Back to Blog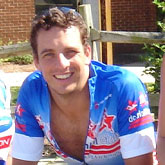 Well, we pulled it off. We spent from 8 a.m. until 6 p.m. in a parking lot. What did we do in said lot, you wonder? We: *Put reflective tape on many parts of many bikes; *wired the various vehicles with lights and sound; *roasted in southern cali sun; *put our decals everywhere on the vehix; *sorted the ten tons of stuff we have and packed it in the vehicles; and *ate some food. Sounds fairly trivial, but it all had to be done for bike and vehicle inspection tomorrow. There's a time penalty for any missing equipment etc., so we had to get it all set today. Spirits were high and though it was a long day, everyone was happy to be getting it all done. We're all set for the inspection and it's a good feeling. Stay tuned...









Comments:
WOOT
by: Angie - 06/08/2008 11:16 PM
SO XTREME!



Stay in touch with reciprocal links between blogs. Contact us for info.


Xtreme4 RSS

See these and many more videos at our YouTube Channel