: Spread the word via social networks and email. « Back to Blog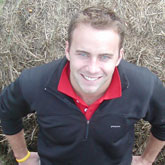 What a great cross country trip Kip, Julie and I had. It wasn't one of those that you plan to take weeks, going to national parks and trying to find the biggest ball of twine in Texas (isn't everything bigger in Texas? The winds sure were.), but instead it was the most efficient, shortest route we could possibly find. Biking from Oceanside to Annapolis in 6 days is probably going to seem fast. But not as fast as the 51 hours it took us, including stops to make it from DC to San Diego. We had a good time rolling along and it saved the team a ton of money and shipping expenses to not have to fly us and a lot of our other stuff out west. Plus it meant that we didn't have to disassemble the bikes to get them on a plane. Bonus!
It was great getting to spend time with my sister and getting to know Kip better. I think the real surprise though was that Kip (our actor/director/team photographer) discovered Julie could go toe to toe with him at reciting songs from musicals. Those would be the times when I took my sleeping shift.
On the left coast, cousins of our dad, Debbi and Steve Morales, graciously allowed us to make an impromptu stop at their house right outside San Diego to get some shut eye (while the vehicle wasn't moving), shower and just chill out a little before the rest of the team starting getting together. It was the perfect, relaxing stop to start off the next wave of race preparation we knew we would be doing, and we capped it off with a stop at the beach and Roberto's "Very Mexican" tacos and burritos. Now we're ready to get down to business.