: Spread the word via social networks and email. « Back to Blog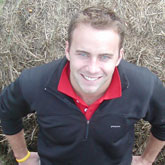 You know, as you plan to do one of these races, you learn to teach yourself to be prepared for everything. One thing you can't prepare for is the fact that when you park your vehicle, there might be another car driving down the street that might somehow lose control, pop the right curb, drive over a bunch of bushes, come down the curb on the other side, then jump the concrete parking stop in the parking lot on the other side AND CRASH INTO THE RV! Minutes after checking in at the first team hotel in San Diego, Julie, Kip and I walked back out to the parking lot where we'd parked to see that a black Camry had somehow lost control crossed a somewhat amazing set of obstacles and hit the RV while parked in the parking lot on the other side. Unbelieveable.
Luckily no one was hurt and the damage to the RV, while knocking off one of the small service doors was minor enough that it still functions fine--all cosmetic. We followed all the rules in the Cruise America guidelines, called the emergency number and it sounds like we'll just take care of it when we get back to DC.
You might be asking yourself the same thing we still are. How the **** did the Camry do all that? The road was straight. Speed limit was about 30-35 and there were no skid marks so he couldn't have been speeding much if at all. The driver seemed stone cold sober (confirmed by the officer who showed up to supervise exchanging of insurance information--when no one gets hurt, you don't file a police report in California). And the driver, who's English was not fluent, could only tell the officer that "my hand slipped on the steering wheel." Use your imagination, I guess. We're still puzzled by this one...and thankful it wasn't any worse!






Comments:
We're Watching!!
by: Gary Barbour - 06/11/2008 11:52 AM
Your dad sent us your post. This accident sounds like it may have been cell phone related. All the best to you, Patrick, Julie, the team and to Phillip who I noticed is from Portland.
filling machine
by: filling machine - 09/29/2008 11:15 AM
We are sell yogurt filling machine,cup filling machine, cup filling machine etc.