: Spread the word via social networks and email. « Back to Blog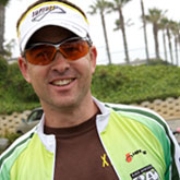 I just rode the Lighthouse Cycling Tour for the third time. This was the first time I took on the challenge without a full on training schedule in the works and a full season of races already planned out. You could say it's my off-season – the first one in a few years. And with about 400 miles in 3 days, the first being the longest at 160 miles, it really fueled the fire. Sure it was a bit painful here and there- mainly the lack of training miles in my legs but also the searing heat I haven't experienced since last summer. Going from below freezing temperatures in Washington DC to Puerto Rico, what I call double 90 (90 degrees with 90 percent humidity), is both a blessing and a brutal assault on your starved muscles. But it's fun. So I'm jazzed about getting back in the saddle- riding across some states- trading in a bbq for a double century, putting some serious miles.

When I get back from my week off- the plan is to stir up the team. Get them thinking and gear up the right group to go back and push hard in 2010. Every minute counts and there ain't no coffee shop rides.






Stay in touch with reciprocal links between blogs. Contact us for info.


Xtreme4 RSS

See these and many more videos at our YouTube Channel