: Spread the word via social networks and email. « Back to Blog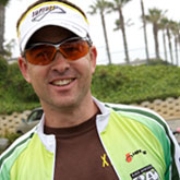 Great ride this afternoon- doing laps and pushing hard here and there for a nice constant- what? - yeah, like 8 laps. I think the first 6 were in under 50 minutes. Anyway, as I rode around the short loop I couldn't help but think of the solo racers on their way across Arizona today. Here I was breathing hard for an hour and they were just getting starting on a 10 - 12 day journey. 24 hours a day. That's a lot of loops. Those days don't include much rest, the clock never stops, decisions are made in a daze, and the miles blend all the towns you pass through. What a thrill they must be feeling. They get to let go of the reality we live in for a short while and just bike. Sure they might hallucinate. Possibly endure extreme saddle sores. But it's fun.






Stay in touch with reciprocal links between blogs. Contact us for info.


Xtreme4 RSS

See these and many more videos at our YouTube Channel