: Spread the word via social networks and email. « Back to Blog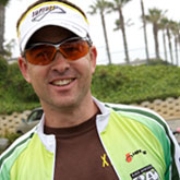 If you haven't been checking it out already - make sure to go to: http://www.raceacrossamerica.org
They have an alright blog which brings in little bits of info from the road about the teams and solo riders as well as all the TS (Time Station) data. I have yet to find out what the starting order was and the time difference- but likely like last year it was by team number every :30 seconds. So team 401 first then 402, 30 seconds later and so on.

It seems like they're really racing hard out there and have some great match ups on the road that will inspire them to push harder. It's always hard to tell what the conditions are like but they had an nice cool cloud covered start and this is a quote from the staff reporter:
"The desert winds were insane. Riders just enjoyed an 80 mile an hour tailwind that kept them cruising at 65km/hr."
-- Brandon

Now that's gotta be fun!












Stay in touch with reciprocal links between blogs. Contact us for info.


Xtreme4 RSS

See these and many more videos at our YouTube Channel