: Spread the word via social networks and email. « Back to Blog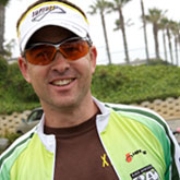 RAAM 2009 had a ton of races within a race and just as many inspiring athletes. If you haven't already, make sure to check out their website blog and videos. It's a great insight into the real stories going on throughout the race. Here are just a couple of the stories from this year.

CONGRATULATIONS TEAM CAN BE VENTURE
Patrick Doak, Carlos Moleda, Dr. Hannes Koeppen and Vico Merklein are extraordinary athletes doing extraordinary things. They rode on handcyles and knew that no team has ever completed RAAM in 9 days before on handcyles. They knew it would be really hard, they knew it would hurt (physically and mentally) and they knew they would do it. Failure was not an option. They arrived in Annapolis at 2.29am. The journey took them an incredible 8 days, 9 hours and 6 minutes averaging 15.02mph. THAT IS FANTASTIC!

ANN WOOLRIDGE, 50+ WOMAN
Ann has passed through Rouzerville, time station 49. She doesn't have long to go now. She is currently averaging 9.49mph and has been out there for 12 days, 16 hours and 23 minutes. It was a tough day in the saddle. Still rolling along with a panty hose bottle holder, a found object modified campy shifters, an ace bandage "Shermer neck" support and the relentless support of the crew. Ann will not be an official finisher but will likely secure the record for the fastest crossing by a 50+ woman. That record has been held since 1992 by Bonnie Allison.







Stay in touch with reciprocal links between blogs. Contact us for info.


Xtreme4 RSS

See these and many more videos at our YouTube Channel