: Spread the word via social networks and email. « Back to Blog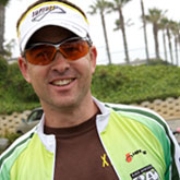 We had a record number turn out for Total 200- the fifth annual ride. Not having as many base or long miles in my legs this was going to be the toughest year yet for me. But with proper pacing and nutrition I felt I had a good chance at a good day. Let me say that again.. pacing and nutrition. I was good out of the gate and kept myself in check over the first couple small climbs as I warmed up. Not riding for the previous couple weeks wasn't optimal but I'm a new dad and those responsibilities have been a new ride for me. No complaints!

Anyway, I got off on the right foot but soon pumped up the tempo and took a good size group under my wing and flew to pit 1. So far so good. On the next section I shared the work. The following section (50-75 miles) was the breaker. I was rolling smooth but I got a flat just a few miles into that stretch and had to pull through on my own- not a bad situation to be in because I had my own pace, but admittedly I tried to catch them-what? Yeah, how the heck do you make up 7 or 8 minutes on a group of 20 taking rotations. Well, at the pit I was spent and only had a few minutes to catch my breath. Getting to lunch (mile 103) I knew I had sprinted too hard for a 200 mile day but what's done is done.

A few of us jumped to the fast group on the return trip so our lunch was short but long enough. The weather was great - in the 80's and the wind was now a predominant tail wind going back to DC. I always feel better after the turn and today was no different but the cramps started to creep in at 110 and I knew my pacing would slow. Bummer. I had to decide how long to push and when to drop off the back of the group. I did drop back some on the second to last and last pit. I felt lucky to only be back a few minutes and being able to start with the group at each pit. The last stretch my legs were half there but mentally I was twice as strong- the finish in sight always pumps me up. So even though those 17 miles were grueling I also enjoyed them. Coming in I noticed I was well above 20mph average for the day (under 10 hours for 200 miles) which was on par with other years.

We had a great group of riders and an even more dedicated group of volunteers that kept with us all day long. Pretty sweet for the training to get some long days in.











Stay in touch with reciprocal links between blogs. Contact us for info.


Xtreme4 RSS

See these and many more videos at our YouTube Channel