: Spread the word via social networks and email. « Back to Blog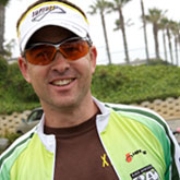 This past weekend I took the opportunity to get out of town and headed to Skyline Drive for some cross training-- some biking, hiking and sleep deprivation. A group of us went up on Saturday morning and set up camp before heading out on an awesome ride that had absolutely no flat sections on it. It was also cold but the rain held off and we got lucky to see a ton of fall colors this late in the season. It was actually a great day. Then as we limped back to camp from pushing too hard early and doing most of our climbing on the return trip the sun was sinking in the sky and the temps dropped - way down. This was the cross training part- how to deal with dehydration, road grime, bitter cold and eating what you could manage to make. We made it fine and ended up hiking the following day before heading back into town. This morning it was back to "normal" doing laps in the pool.






Comments:
can't wait...
by: philip - 11/21/2007 09:57 AM
..to do this ride. It sounds great.



Stay in touch with reciprocal links between blogs. Contact us for info.


Xtreme4 RSS

See these and many more videos at our YouTube Channel