: Spread the word via social networks and email. « Back to Blog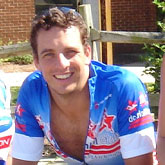 Team Xtreme4 is officially competing in the 2008 Race Across America. We registered today.
Oceanside (and the whole rest of the nation): HERE WE COME!

Comments:
RAAM 2008
by: Larry Brenize - 12/17/2007 05:17 PM
Good luck on RAAM 2008 as a member of RAAM 2006 Team Cyclonauts just know that whatever you plan before the race goes right out the door when the race gets started. Looks like you have a great crew and a great book to read for yourselves and the crew is "The part empty box" in the RAAM Store and is written by Steve Bourn's Dad as he crewed for him. You pretty much can figure lots of stuff in that book will happen to your team during RAAM, it did on our.
Good luck on Training
by: Simon Hernaez - 12/18/2007 10:16 AM
Congrats on your official step guys and good luck with your training. Your training posts are really motivating - just read them and now I feel energized for my own! We'll be waiting for you with kegs of beer a the finish.