: Spread the word via social networks and email. « Back to Blog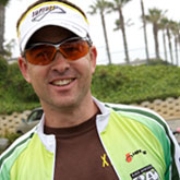 Our "holiday ride" was a gift to ourselves - a long mid-day ride on a Friday before a predicted wet weekend. We had a great showing from the team- Phil, Andrea, Mariana, Laurel, Kip, and myself headed out to Poolesville at a good clip. Hammering our way out and maintaining as much as we could on the way back; clipping in for about 75 miles. Everyone was feeling the stress of the ride and craving some food- pizza, dairy queen, mexican- you name it! The weather held up and the chill only started to sink in near the end of the four hours. The only down side was slugging through the holiday traffic as we made it back to town- slowly criss-crossing lights and pedestrians to Capitol Hill.

I gotta give praise to the great Xtreme4 support crew as well, many of which crank out the training miles side by side with the riders. Not only that though, whether they're riding with us, writing sponsor letters, contacting partners, putting together budgets and logistics or filling in on so many other responsibilities, it's an amazing team.






Stay in touch with reciprocal links between blogs. Contact us for info.


Xtreme4 RSS

See these and many more videos at our YouTube Channel