: Spread the word via social networks and email. « Back to Blog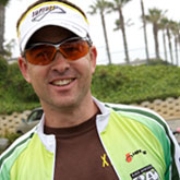 It was a long day, starting at 5am and pedaling over 150 miles from San Juan to Ponce. We got up, got ready, and then had to get to the ride start with all our gear- which proved to be our first challenge. That minor set back got us rolling as the very last people in the peleton- we just couldn't get to the start line in time. Then we rode and rode and kept on riding. There were pit stops about every 25 miles and plenty of pot holes to keep your mind sharp. It was a great day with temps never really getting too hot and some showers off and on. After the second pit a few of us decided to pick up the pace and drive ahead on our own. That also meant it was up to us to navigate- and about 45 minutes later we "caught" up with the peleton- only we thought they would have been behind us! What's a few a extra miles right? I ended up with about 160 for the day. The scare of the day was on a huge screaming descent when Kip hit a small rock that took him into on coming traffic on a blind curve- at about 40mph. That quickly turned hellish when a car was right in front of him. He went wide and caught the guard rail with his chest and arm. According to him the HR monitor strap saved some precious skin. Nevertheless he got a nice gash in his arm- requiring stitches at the next pit. Other than that it was a ton of miles stretching around beaches and cliffs of the island. Starting on the northern coast, circling around the east end and cruising half way across the southern coast. The last 40 miles dragged on and luckily were quite flat. Tomorrow we start early- hoping to ride our pace for a short century. You don't say that everyday! Looking to update on the road... But ran out of batteries and sunlight today.












Stay in touch with reciprocal links between blogs. Contact us for info.


Xtreme4 RSS

See these and many more videos at our YouTube Channel