: Spread the word via social networks and email. « Back to Blog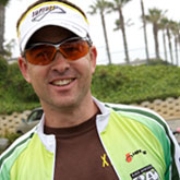 Just a quick recap on our "short" day - almost a century. It started out as one peleton of about 200 riders to the first pit stop, breakfast. We cycled thru the plaintain fields and some small rollers as we made our way to wendys for french toast stix and tater tots. Breakfast of champions. As we rolled out from that pit we split up into a hammer group that took off on a wild ride. We cruised up long inclines at 20+ mph and set a pretty strong tempo... Until I was grabbed by my jersey and told to slow down. Oh, I thought this was the fast group. I guess someones feathers were ruffled. So we took it easy under his direction for a while until Patrick kicked up a few notches and everyone followed. We made the lunch pit in no time at all. And a large frosty later we were back on the road looking to at the pool and hotel by 1pm. We were crusing. We got to about 5 miles from the end and BAP BAP BaP BAP... Some HUGE hole in the road wrecked some people behind me. We had no idea since it was in shadow. I rolled back to the scene of riders all over the road and saw Andrea on the ground. I rushed over and have been by her side since. She is fine- well more than fine. Her main concern is riding tomorrow! BRAVA. We're taking all the preacautions and getting her checked out but we're looking forward to a good meal and getting to the pool! More details to follow.















Stay in touch with reciprocal links between blogs. Contact us for info.


Xtreme4 RSS

See these and many more videos at our YouTube Channel