: Spread the word via social networks and email. « Back to Blog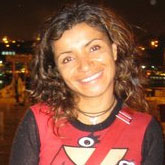 This past Saturday we had a good logistics meeting with the riders and crew members. The crew chiefs started mulling over what options we have as far as vans, riders, etc, and it was great to go more in depth in the logistics part of the race, as we've been focusing quite a bit on fundraising and training on the past months. We've got several donations in the past weeks and are finalizing a possible sponsorship. More to come!
We have decided on 2 tentatives groups for the race, Eric and Patrick as one and Phil and I as the other. We are brainstorming on cool names for each group... Eric had suggested some names (some cannot be posted here!) such as Jack & Daniel, Rum & Coke (and of course he would be in the Rum team), and others along these lines. So if anyone out there has a good suggestion for a cool inspiring name send it to us!

After our logistics meeting, we went to Results Gym in Farragut North to do our 3hr spin with Patrick being our personal coach Troy! What a great facility! It was an awesome workout, and Eric definitely won the puddle contest. Check out his face after the workout...








Stay in touch with reciprocal links between blogs. Contact us for info.


Xtreme4 RSS

See these and many more videos at our YouTube Channel