: Spread the word via social networks and email. « Back to Blog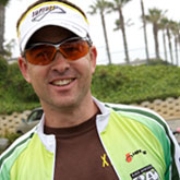 Wow- it's already prooved to be a great trip. The first full day of riding for us was about 75 miles with a fair share of climbing, 3 sprints, and a king of the mountains challenge. All totaled up we had about 6500 feet of climbing and lots of rollers all day long that took their toll on the entire group. We started out at about mile 8 of the course and began on the first climb - a quick to warm up. Then we followed the coast north from the bay area to Bodega Bay and that's when we went into the cat 3 1000 foot climb- an awesome surge up the mountains right on the coast. With the crowds lining up all along the climb it was like we were in the race. They yelled out and rang the cow bells as we huffed an impressive 6mph up the steep one lane road. It was pretty awesome. The downhill wasn't as much of downhill as I would have expected- more like twisting rollers that took us into our stop for the day - some small town called Occidental. That's when we got to see the race fly by. It was a spectacle and we were ready to get into our hotel and fuel up with some solid food.

Tomorrow's route has a couple sprints, a cat 4 and cat 2*. We'll end up with about 85 miles and who knows how many feet of climbing- but another fair share. We're heading through Napa Valley although I'm not sure we'll have time to enjoy the wine. I'm scheduled to do a transition run after the ride- about 5 or 6 miles. We'll have to see how the day goes.

* "Cat" - refer to 'categories' of the climbs (the degree of difficulty).
** I wish the photos were better to do this amazing landscape justice- but better quality photos will after the week. Right now I'm just shooting from my phone to get the updates posted ASAP.













Stay in touch with reciprocal links between blogs. Contact us for info.


Xtreme4 RSS

See these and many more videos at our YouTube Channel